Well, let's just say so far, it isn't going that well. By the time you read this, I will have been off the ship for a week or so. I know, I know, please refer to the following post.
Signed up
For a 12 PM time to board the ship, but due to some extra cleaning. Here is a text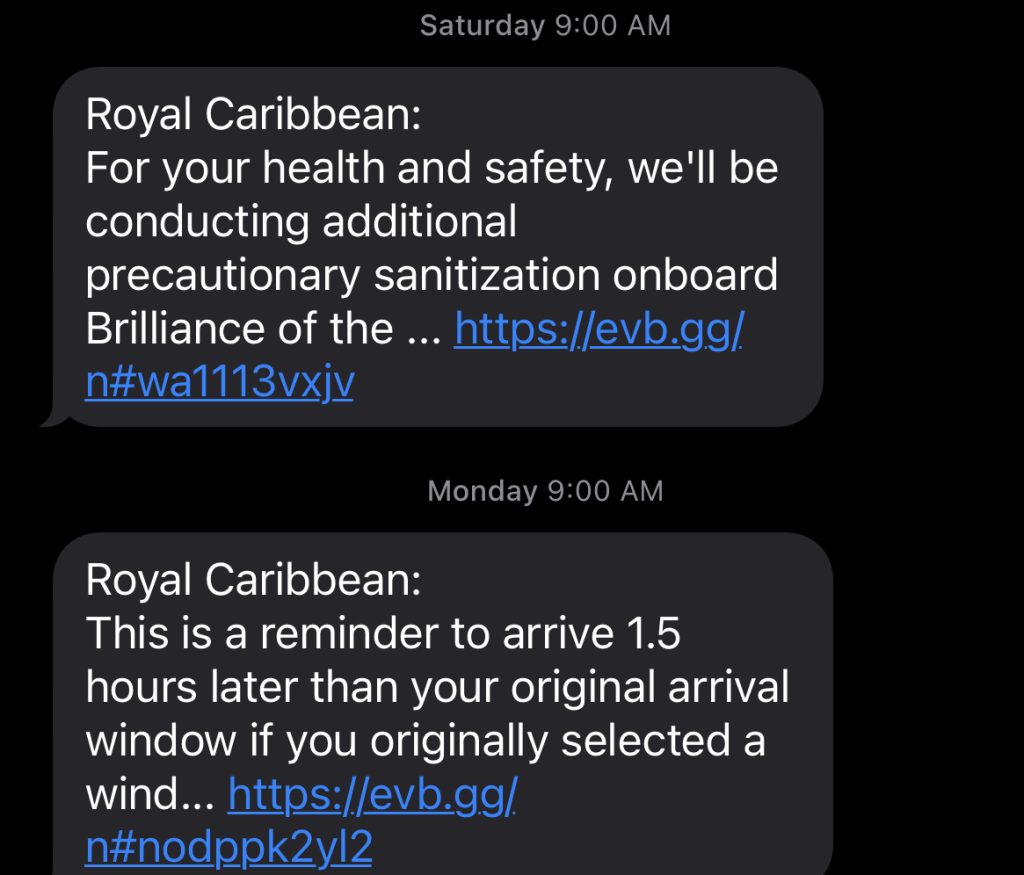 So we changed our hotel shuttle from 11:30 AM to 12:30 PM. No big deal, we stayed in the lobby and just relaxed.
Got there
The port wasn't as busy as it usually is. There wasn't even a sign-up welcoming us to the ship.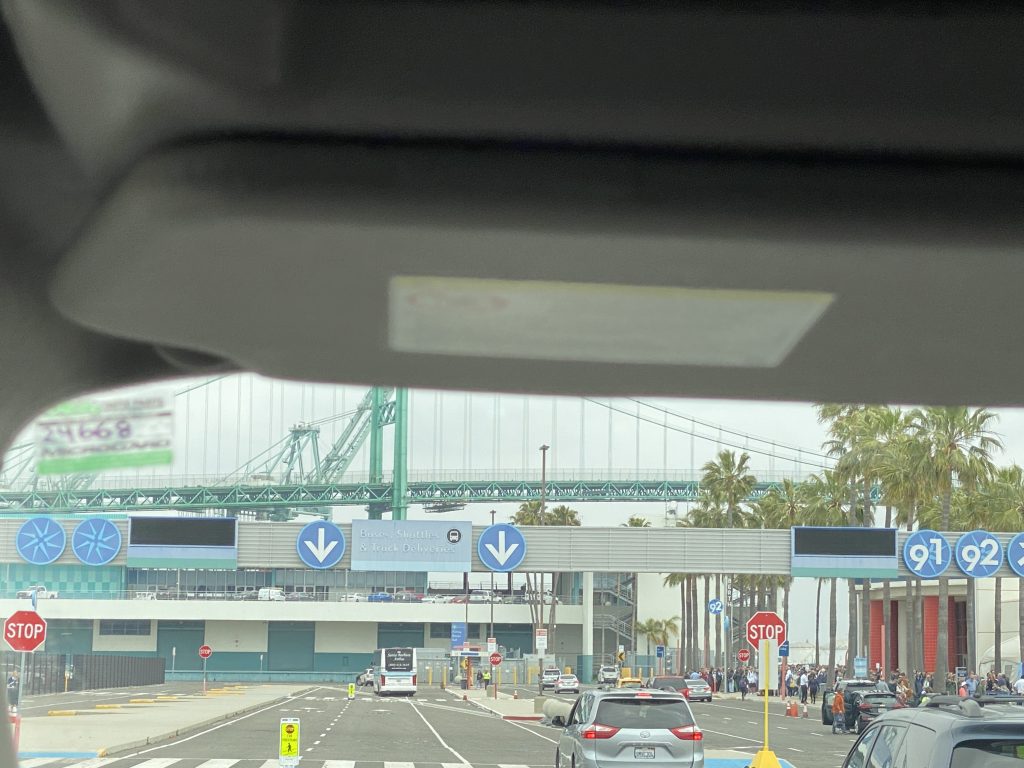 This was sad for me. It was like do they even care about us? The last time I sailed out of this port we had a this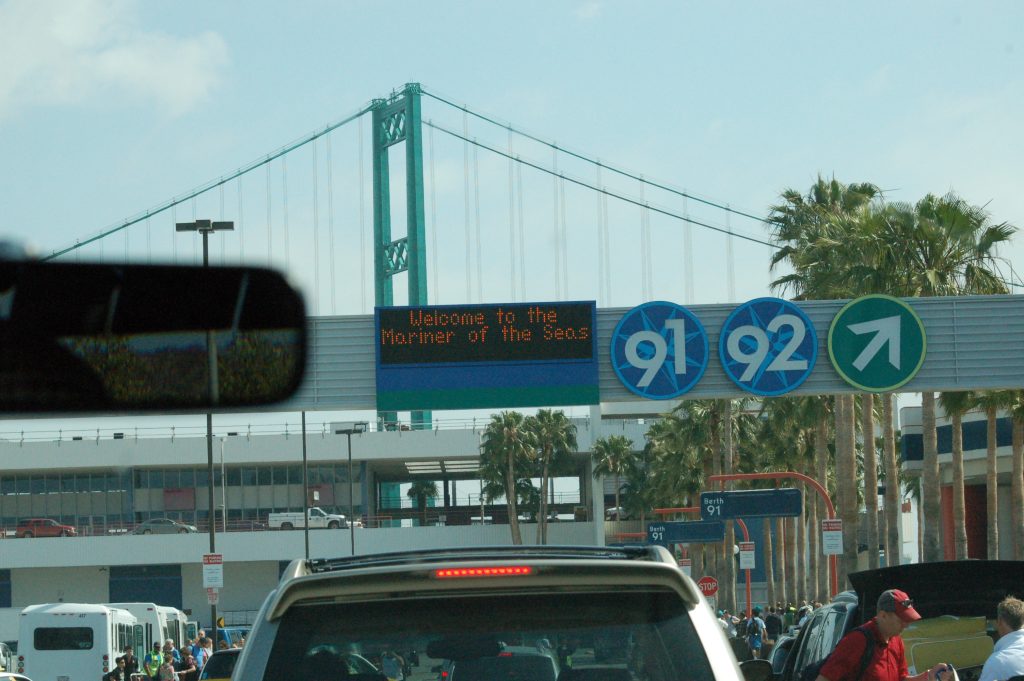 But once we got there we saw a big line, we dropped off the luggage at the porters and went and stood in this line.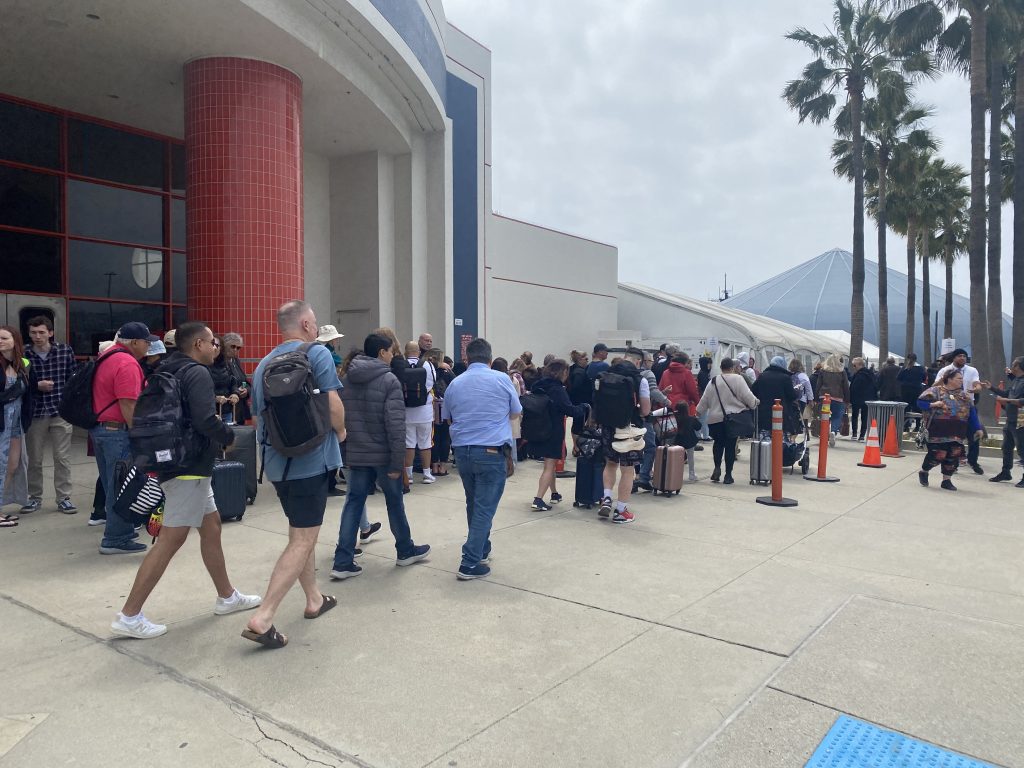 Now, the lines were labeled, by time or your sign-up arrival time. But, we just picked a line and stayed in that. They didn't ask us to leave or anything. It took about an hour or so to get aboard the ship. It was a madhouse.
Checking In
When checking in my wife got her picture taken, after they asked us a few health questions. But as we were trying to board the ship, there were people who had to get their picture taken. Why they didn't do it at the same time my wife did? That just held up the line. Come on people, we want to get on the ship.
Oh, by the way, while going through security, we noticed that people had their luggage searched and stuff like heating pads and other things were taken out of luggage. Just don't bring those aboard.
Boarding
We got on the ship. Now one shouldn't be allowed to bring on luggage bigger than a carry-on. There were some people that had check-in-size luggage they were hauling onto the ship. They kept on stopping in front of us. Walking slowly and cutting us off, and even hitting my wife with the luggage. They were at the same muster station as us. They would probably bring their luggage with them.
We went and got our muster thing checked off when we got on the ship. You know so you can just get it out of the way. But there were still asking people to please go to the muster station and get it checked off. I think they said it like 20 times.
Just do it, people.
Lunch
We got lunch in the buffet, and it was packed with people, we found a spot to eat, and we started eating. Didn't eat that much, you know trying to pace myself so I don't put on a lot of weight this week. HA, HA.
Rooms
Weren't ready until 3:30 PM, and that meant finding a spot and sitting down and waiting. We were sitting on some loungers up on deck 12, but it got too cold for the wife. So we moved to deck 11, where we sat on the floor,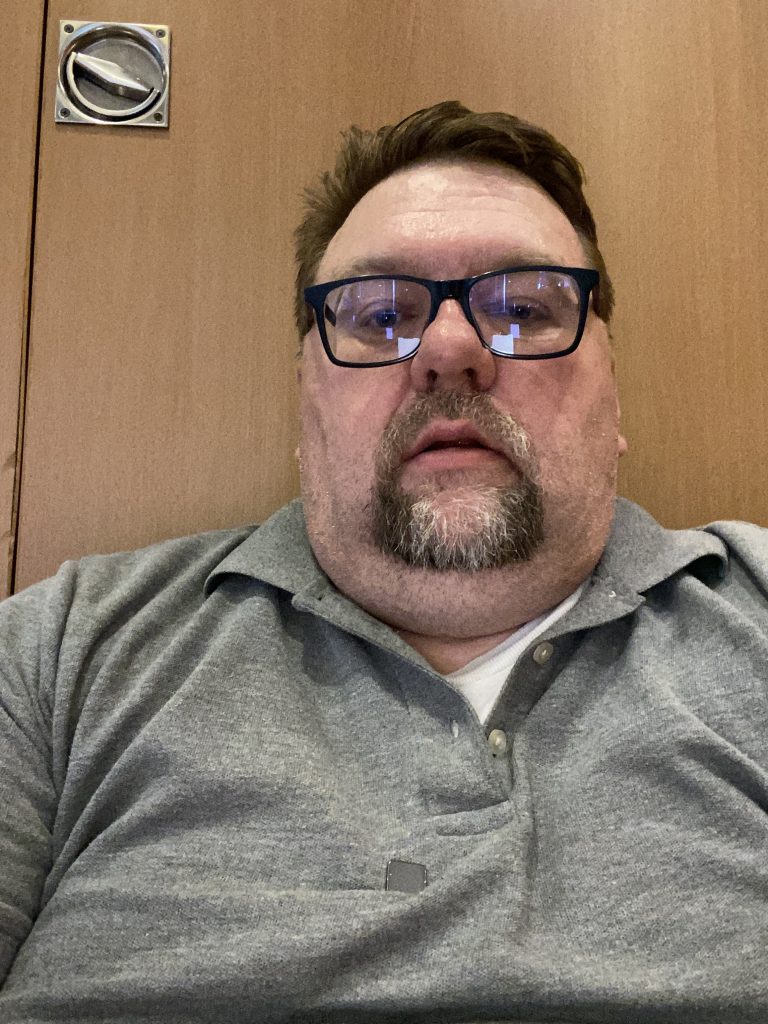 and then to deck 9. We watched as people had to make sure they were the first ones to their rooms.
They were and then they started to complain that all the luggage wasn't there yet.
Summary
The day was long, but we got on the ship, ate, and got to our room. I should have taken a nap. But didn't. We unpacked then sat on the balcony and just relaxed.
Video