Vegas is known as the "Sin City" due to its nature and what they are known for so what is the attraction of Vegas? Let's find out.
Vegas
In 1905 was settled and officially became incorporated in 1911. it is known for the following:
Night life
Mega casino-hotels
Gambling
And the numerous forms of adult entertainment

That is why it is named "Sin "city"
Freemont Street
However, it is known for Freemont street, which was where the casinos were located at. James Bond, Dimond's are Forever chase scene was filmed there. Granted this was released in 1971 and things were a bit different.
Strip
The strip is where the action is at now. This is what the strip looks like.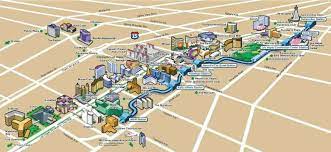 What we did
We took the shuttle to the city center drop-off point. It was at the Aria Hotel. We headed to dinner, which I will be talking about in the next post so stay tuned.
After dinner, we walked to the MGM and just to look around. For being a holiday, it wasn't that crowded. I mean I have been here when it is crowded and you could barely move. But I was able to move about freely. Which was good as it was hotter than ever. I was sweating up my dinner.
Video
Here is a video I put together, yes, I need to get better at doing video's