February 20, 2020 brings us to the beautiful island of St. Thomas. A nice little island that is part of the US Virgin Islands. This island has an average temp in the 80's and might be prone to a hurricane. But a great island to visit and enjoy the sun.
History
Back in 1500 BC, the island was settled by the Ciboney people. In 1493 on his second voyage to the New World. In 1657 the Dutch West India Company had a post on the island. In 1673 the first slave ships arrived and St. Thomas became a slave market. The port became a free port, not free slaves.
The island was divided into plantations and the sugarcane production was at an all-time high. The island was highly dependent on the slave market thus making the island the largest slave auction place in the whole world.
Slavery was abolished in 1848.
Sale of the island
David Hamilton Jackson was a key in selling the Island to the USA. He also was vocal about the freedom of the press and he traveled to Denmark and asked the king to allow this, in 1915.
$25 million in gold was all it took to by three islands, Sant Thomas, Saint Johns, and Saint Croix. The USA brought the islands as a defensive strategy to maintain control over the Caribbean along with the Panama Canal during World War I.
Weather
Being in the Caribbean the island is prone to have some hurricanes like Hugo, 1989, Luis, and Marilyn in 1995.  The average high temperature is between 85.1 F to 90.2 F and the average low is from 72.4 F to 78.1 F. So basically awesome temps. 
Transportation
They have the usual buses, Taxis, big vans, and cars there to get you around. But beware they drive on the left-hand side of the road. The complete opposite of what is done in the US. So be careful when driving.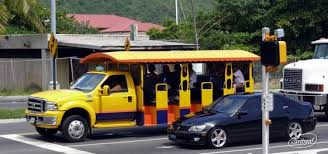 Interesting things
Blackbeard's castle
Buck Island National Wildlife Refuge
Magens Bay
Red hook
Citation
I found this information on en.wikipedia.org