Better known as the Port of Los Angeles is where cargo and cruise ships come and go.
Port of LA
This is managed by the LA Harbor Department. It is 7,500 acres of land and water. It has about 43 miles of waterfront and adjoins the Port of Long Beach.
Facts
Opened
Harbor Size
Land Area
Total size
Draft Depth
Vessel arrivals
Annual Cargo tonnage

178 million Metric revenue tons

Value of cargo
Passenger traffic
25 cargo terminals
82 container cranes
8 container terminals
113 Miles of on-dock rail
The cargo that comes into that port represents about 20% of all the cargo coming into the United States.
The top imports are
Furniture
Automobile parts
Apparel
Footwear
Electronics
Waste paper
Per and animal feed
Scrap metal
Soybeans
The top other trading partners are
Along with the port of Long Beach, this is considered the least efficient port on the planet. At least you can't get any worse Right?
Cruise Port
Located at
100 Swinford Street San Pedro, CA 90731
This is known as the World Cruise Port. I am not sure why, but it is. It is located under the Vincent Thomas Bridge.
Cruise Lines that sail out of there
Home ports
Princess Cruises
Norwegian
Royal Caribbean International
Celebrity Cruises
Other lines that sail out of there
Azamara Club
Carnival

They sail out of Long Beach

Cunard
Holland America Line
MSC
Oceania Cruises
Regent
Seabourn
Viking Cruises
This is managed by Ports American Cruise, Inc.
Thoughts
My thoughts on this cruise port are that it is a nice port, however, they need to do a bit more about the actual cruise port. The boarding is not that efficient.
The lines were out of the door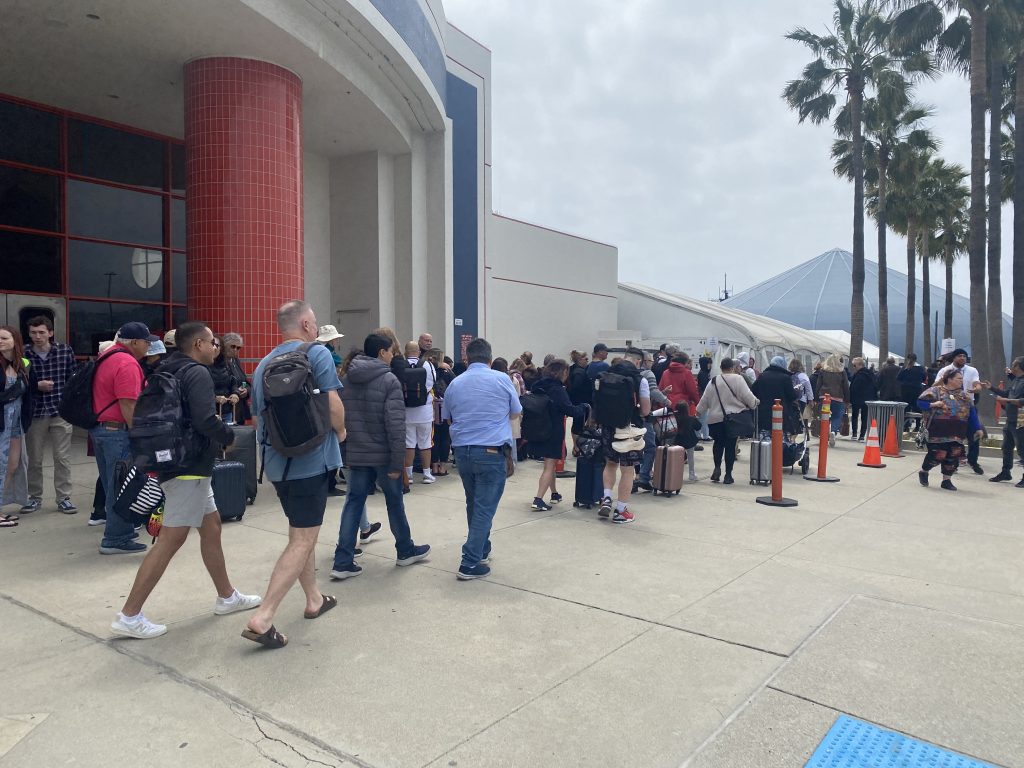 Yes, it was a bit of the mad house, it if was raining it would have been a not so enjoyable time. But it wasn't raining at the time we were there. Thank goodness. Yes, they had to undergo a longer cleaning and sanitizing due to the Nora virus aboard.
The last time we were there, we had to wait inside of the terminal, due to a swat and other law enforcement training on the ship. Yea, it was an extra couple of hours.
But overall, it is a decent port. But if there were more than one ship in port at a time it would be a bit more of a nightmare with all those people trying to get on and off the ships.