I thought I would try some packing cubes to see if they really do help out and provide you with more room.
I got these packing cubes from Amazon
https://www.amazon.com/gp/product/B017XCZY58/ref=oh_aui_detailpage_o05_s02?ie=UTF8&psc=1
**Not an affiliate link (I Really need to get one)
I used these bags for my most recent trip to Alaska. Last time I didn't check a bag but took a carry on and a small laptop bag and everything fit in them. Well, almost. So I thought what the hell I will try these and see what they have to offer.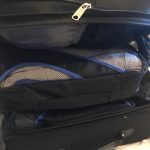 Here is a picture of the cubes, I wish it was different, but I need to take a picture again. I was in a hurry as I had to pack for three people.
As you can see from the picture they all didn't fit in my carry on. So I need to figure out a few things on these packing cubes. Here is what I packed in them.
Underwear
Suit
Dockers
Nice shirts

Polo
T-Shirts
Nice button up

Pants– Levi (wore them on the plane)
Gym Clothes
Socks
My opinion on these packing cubes. I like them I was able to fit a lot of stuff in them and it made packing easy and organized. I could just take out what I needed and I didn't have to go thru the whole suitcase.
I could just take these out and didn't have to unpack. You could pack them any way you wanted. You could pack each one according to the day or all together.
We were going to check a bag so it is OK that it didn't fit. My wife had some of these as well. She really didn't like them. But I found that if we put all ten in a big suitcase, it makes it too heavy. Here is a picture of the big suitcase that was too heavy with all ten packing cubes in it and It weighed about 68 pounds.