We were up and out of the house by 7 AM. I was shocked and amazed. It was going to be a good trip. We stopped by McDonald's as what trip wouldn't be complete without stopping there. I had something, my wife didn't. She made herself a bagel, after telling me she wanted McDonald's. Oh, well lesson learned.
Drive-up
Got on the freeway and I just was driving my normal thing. Then I realized I could use the carpool lane. So I moved over there until I hit the construction area then moved over. There is no way I am getting a $500 and up ticket, and I slowed down to 60. I can do that for 5 miles. There is a reason I go to work later in the day, to avoid all the dang traffic. We had some stop and go traffic along the way, worked my way over to the beltway (1-215) and continued to the airport. It took us about 1 hour and 14 minutes (1:14) I don't know how people can do that every day.
SLC Airport
It was a busy place lots and lots of people going to different places. Security took about 30 min, went to our gate and boarded the plane (more about this on the SLC Airport post).
Flight from SLC to MCI (Kansas City)
It was smooth we took off at about 9:44 AM ish and It took off without an issue. I mean, we didn't wait to take off. We taxied and then we took off. It was quite nice. They didn't turn on the air until the boarding was almost finished and then they turned it off to do the safety briefing. I was fine but the wife on the other hand…
The Flight
I sat in Comfort + for the first time it was nice to have my own space for my bags, A little bit more room, but not that much, but some. I was five rows from the front. But it doesn't mean you will get off the plane first.
The Plane was a B717-200 just the standard plane it did have a USB plug.
But it didn't have:
A TV to watch entertainment on or track your flight
No earphone plug, since it didn't have the TV.
Snacks
The standard snacks Coke products and I got water and some cookies. The cookies were pretty good.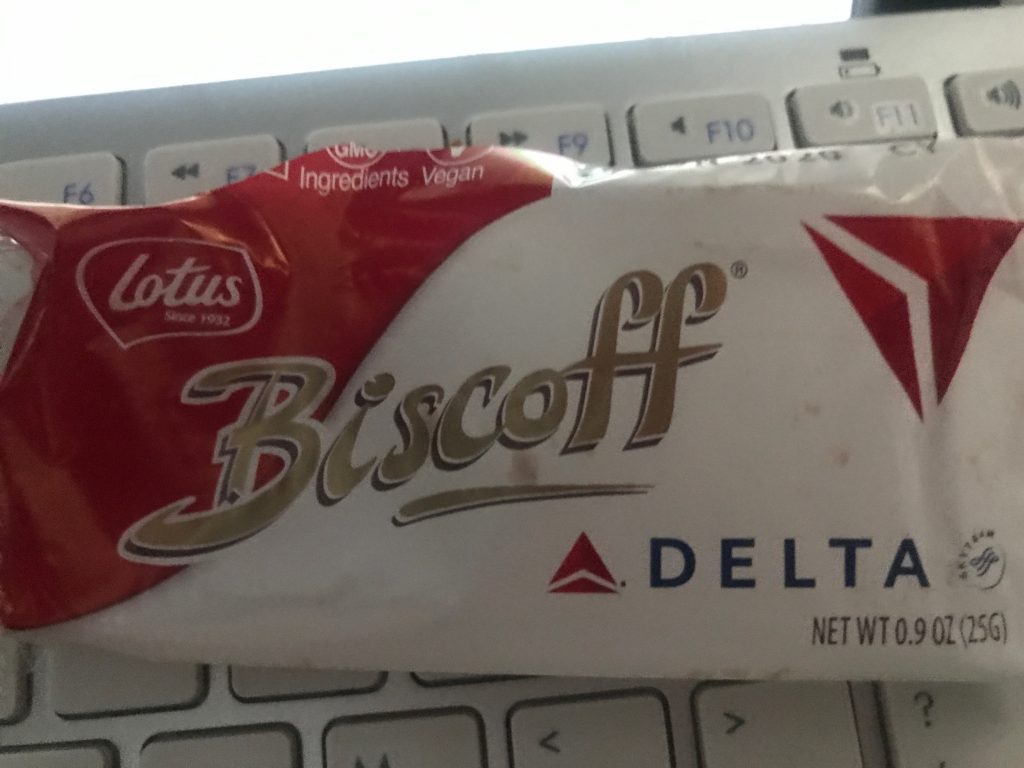 They even said Delta on them.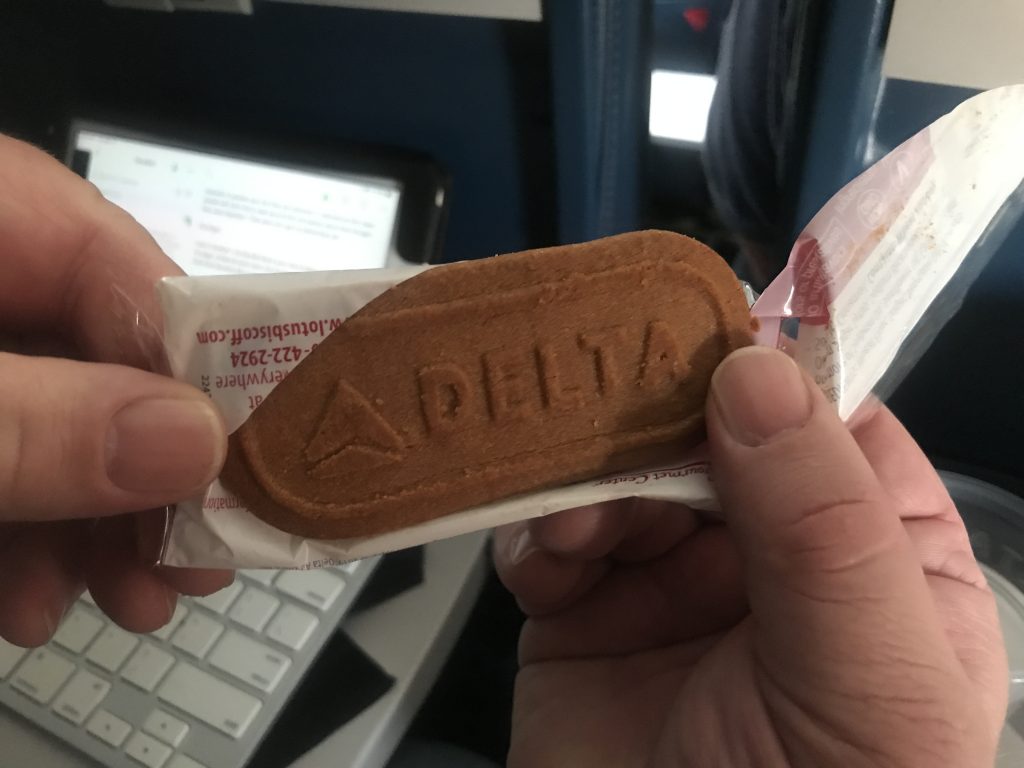 They came around a second time asking if we wanted something, maybe that is just a comfort thing, but I liked that. Got another water and cookie.
Wifi
They did have Wifi as an option if you wanted it. I connected to it for free iMessage, Facebook and What-sup app, My wife connected to it for a movie, she was watching Rocket Man. I tried to connect my OneNote so it will sync across all the stuff I did and created and forgot to sync on the iPad but that didn't work, which I knew it wouldn't but I was hoping for a miracle. That is the one thing I forgot to do is to sync up my OneNote on the iPad. I guess I will be doing that later when I have access to SECURED Wifi. Always make sure it is secure people.
It appears that we arrived about 30 minutes early. Not sure why but we did. Maybe a great tailwind.
Kansas City Airport (MCI)
We landed and even if people jump up wanting to get off the plane as soon as possible, they took the time to allow us to grab our bags and exit the plane. More about this in the Kansas City Airport post which is coming soon.
Enterprise Rental car
We got the car it was a little Mazda 3 hatchback, not what I wanted. But you can find out more on the rental car post.
Lunch
Headed to Raising Canes to eat some food. Got the 3 finger combo meal. It was good.
LDS Temple
Kansas City LDS temple was the next stop. More on the Kansas City Temple post.
Haun's Mill, Missouri
This was an out of the way stop for us I mean it was way out of the way. What is this place? This is a place where the Livingston Couty Regulators came to Hauns Mill, Missouri and killed 15 men and 2 small boys. Here are some pictures of this place. For more information click here
Adam-Ondi-Ahman
This is owned by The Church of Jesus Christ of Latter-Day Saints, and in 1838, the prophet Joseph Smith lead a surveying party to build a new city. You can find out more information here
Far West, Missouri
Is a place in Caldwell County where 4,900 of the population where LDS in the early years of the State of Missouri. They had the following:
150 houses
4 dry good stores
3 groceries
6 blacksmith shops
printing press
2 hotels
and so on
For more information click here
Cameron, Missouri
Is where we stayed at the Red Roof inn (own post later). It was quite a small town. We went to WalMart (of Course we did) and ate at Pizza Hut, well we got take out and ate at the hotel.
Overview of the day
It started early (5 AM) and ended late (11 PM). We traveled From Utah to Cameron Missouri and saw some of The Church of Jesus Christ of Latter-Day Saints history they have in Missouri. Tomorrow we will see some more and go to a baseball game.