Today is the wedding and the luncheon and then we are on our own.
Breakfast
Woke up and the brother-in-law made us crepes, he is always going all out for us.  The crepes consisted of the following:
Bacon

Nutella

Strawberry, Chocolate, butterscotch spread in a squeeze bottle

Strawberries

 
It was a great breakfast.
Wedding
We headed East on 215 from Henderson, then got on to the 515 and headed North. We got to the Las Vegas LDS Temple. A friend of our sons was getting married there.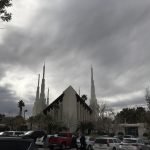 Luncheon
We made our way to the Luncheon, at 1 PM, after we stopped by for a drink at McDonald's. The Luncheon was Café Rio type of food. 
Lettuce

Beans

Meat

Tortillas

Chips
There were some toasting and roasting of the bride and groom. We sent them on their way and then headed back to the in-laws' house.
Night time in Vegas
We got back and changed then we headed out to pick up a shuttle to take us to the Las Vegas Knights hockey game. Parking on the strip is the biggest joke as most of the resorts charge for parking and the traffic is s joke anyway.
We got dropped off at the Excalibur hotel and casino walked over to the T-Mobile Arena, well we walked under the roadway.
Made our way to Shake Shack where we ate dinner. I had a hot dog, it was just a hot dog.
The Vegas Knights lost, but it was a fun game.
T Mobile Arena
This building is impressive, it only holds like 18,000 people. You can access the Arena via the development called the Park. This is a retail and dining space between New York and the Park MGM casino hotels. This has a big long escalator, I tried to get a picture of it, but I couldn't.
It was a fun night, after the game, rode the shuttle back and then went to Krispy Kreme.