We headed to Las Vegas the fun city or sin city as most people call it.  We were headed down to a wedding of one of our son's high school friends. We have known the family of the groom for many many years.
The Gorge
It is called the Virgin River Gorge
Is what the roadway between St. George, Utah, and Nevada is called. It is an 11-mile roadway in Northern Arizona. It is a windy road. It is a 55 mile an hour road but people go like 80 to 90 miles an hour thru the gore.
Just as we were entering into the gorge the traffic came to a halt I mean it came to a halt. The right lane was blocked due to a crash, but yet cars kept on going past us on the right-hand side. That is until a semi pulled out and blocked the roadway. But we were still stuck for over an hour and a half.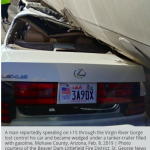 Once the traffic started to move again we saw a Lexus up and under a semi-trailer hauling gas. No one was hurt, but the roadway had to be shut down about 5 PM as the semi truck that was coming to get the gas was rear-ended. (Stupid Drivers)
Here is the article about the accident.
https://www.stgeorgeutah.com/news/archive/2019/02/08/mgk-crash-is-partially-blocking-southbound-i-15-in-virgin-river-gorge/#.XHMRmpNKjGI
Wedding Reception
We went to the  Reception tonight, the day before they are getting married it was a nice and cold night, like in the '40s. Nice for me but not for others.  There were many different kinds of doughnut holes, we had a few. Some hot chocolate and chips and salsa. Really wasn't that hungry for dinner.
Dinner
When in Vegas you have to eat at Raising Canes, I got the 4 pieces and the wife got the 3 pieces. It was good as good. The son was still at the wedding reception as he was a groomsman. He went there with his girlfriend before she brought him to the cousin's house.
Brother and Sister-in-laws house
We are staying in Henderson with the wife's brother and his family, which is nice. Not on the strip or anywhere the mayhem of that area. They have a pool and a hot tub which is nice, I am not sure if I will be using them this trip.