I am going on a trip, yep you have heard that right. Here is a video of what we will be doing.
Where are we going
If you watched that video you will see that we are going on a trip to the Mexican Riviera aboard the Carnival Splendor. It will be a 7-day cruise and we will be stopping in
Cabo San Lucas

Mazatlan

Puerto Vallarta
We will be leaving from the Long Beach Cruise Port.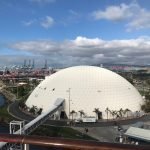 Here is what we will be doing: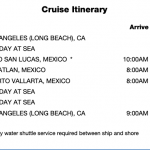 Flying in the day before
We will be flying in the day before just so you know to be smart. Just in case something happens to the flight. Our first cruise we flew in the day of the cruise and I was nervous that we would be missing our ship. Since then we have always gone the day before.
What to expect
So over the next few weeks, I will be posting about our the cruise and what I did daily. Yes, it might be boring at times. But it will be the break down of what was going on. There will be a lot of posts about different things on the ship and separate posts about what we did in the different ports, you know where the ship stops.
So stay tuned and you will see what happens on the trip.