The whole reason we are staying at Tahiti Village is that they wanted to sell us a timeshare. This was going to take about 90 min.
Breakfast
Had some breakfast the same as the other days, some cereal and some of the sweets we had around.
Timeshare
Attended the timeshare presentation and they make it sound like such a good deal and a reasonable price. You almost want to buy it. Yes, they had a good view. Made it sound like such a great thing and you can travel the world as this would allow you to do this.
They say it isn't a high-pressure thing, but it is. They want you to buy.
We said no and for attending we got tickets to KA and Madame Tussaud's, the wax museum.
Tickets
We made our way to the MGM Grand via the shuttle and exchanged the vouchers for tickets. Then walked over to New York New York and looked around made our way to Shake Shack to have some food.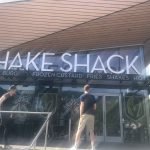 Went back and relaxed for a little bit.
Late night and KA
We went back over to the Strip and made our way to eat at Buca di Beppo a place in Excalibur (more on the food post)
We walked around and looked at all the stuff that we couldn't afford. Went to the Coke store and got a mug, Made it over to KA. That was one awesome but odd show. The set was so amazing and what they did was well amazing.
$165 million dollars to put this production on, 80 performers and over 200 costume changes. It was a show that was a good show.   (will be talked about on the KA post)