The hub to the Sin City. That is the Las Vegas Airport. Let's read about it.
Located
This is actually not in Las Vegas, but it is in Paradise, Nevada. That is really odd. Well, to me anyway.
Started off
It started off as Alamo Field, by an aviator George Crockett, South of Las Vegas. The United States Army wanted to open a base where the original McCarran airport was at. Which is now Nellis Air Force Base.
Clark County brought Alamo Field and which became the new McCarran airport.
The airport was built in 1942 and in 1948, it started with flights. That is interesting.
When it was first opened it had over 36,000 passengers. April 1949, it looked like it had 12 departures a day.
Growth
As the casino industry grew, the airport saw 959,603 passengers in 1959. This meant that the following departures:
47 Weekday flights

Western
United
TWA
Bonanza
Pacific
United had the first 720s to land at the airport, why is that so special, well that was the first jet engine plane.
Sizes
The size of the airport now stands at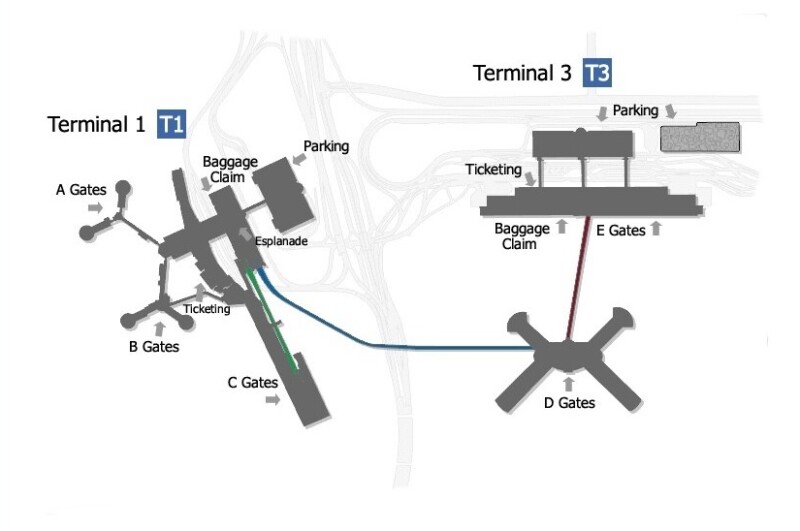 It has
4 Runways
2 passenger terminals
Air Cargo Center
Fixed operators and helicopter companies.
The terminals consist of
Terminal 1

94 gates
Across 4 concourses (A,B,C,D)

Terminal 3
It does have a people mover
Green line
Blue line
Red Line
Naming
The airport has been named the following since Clark County took it over
McCarran

US senator that represented Nevada, 1933-1954

Harry Reid

US senator that also represented Nevada from 1987 to 2017
Airline base
The airport is a base of operations to
Allegiant Air
Frontier Airlines
South West
Spirit
Video