This is the main airport on Maui, yes there are other airports on the island. However, this is the main one.
Airport
This is called the Kahului Airport and the call sign is OGG. This is located just east of Kahului.
It is said that most of the flights to Kahului Airport come from Honolulu, one of the heaviest-trafficked air routes in the United States. However, there are some flights that come from the west coast of the United States.
Some History
Construction of Naval Air station, Kahului in 1942. That was during World War II. After the war after some lengthy talks, the base was turned over to the territory of Hawaii and began Commercial airline operations in 1952.
Terminals
This has ticketing and some USDA agricultural inspection along with baggage claims.
There are 16 jetways for getting on and off of the planes.
There are 6 gates from A – F, and the odd numbers have jetway systems access and the even numbers have emergency exits have stairs that go to the ram.
The main terminal is split into North and South areas.
South
Gates 1-16

7 aircraft parking
4 for inter-island
3 overseas
North
Gates 17-39
9 positions for parking
Three for inter-island
6 for overseas
Inter-island gates
Oversea gates
Most gates are designed to fit narrow-body aircraft like DC-9 or the Boeing 737. You know the smaller planes. However, nonstop flights from the mainland United States offered more significant issues like the wide-body aircraft.
Airbus A330
Boeing 767
Boeing 777
And The Boeing 737-800
The smaller planes for inter-island flights fit at all gates. Due to the widebody aircraft gates 3,25,31, and 37 are rarely used.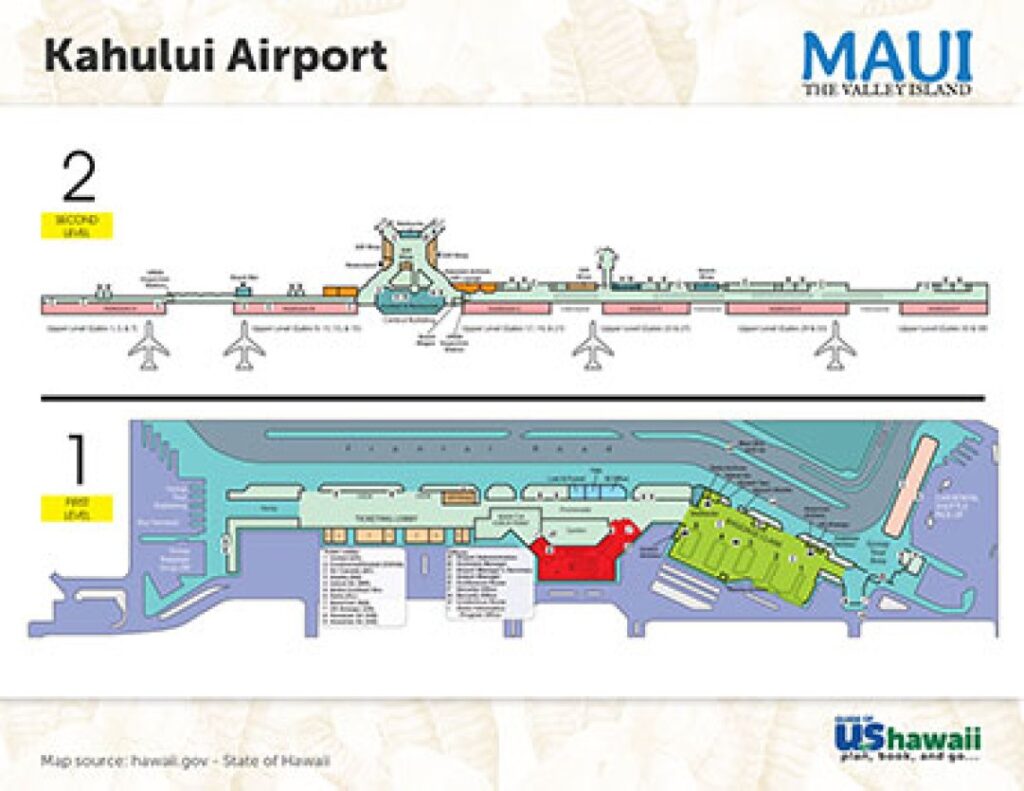 This was taken from the interwebs. So credit is due to someone.
Airlines
Here are the airlines that service Maui
Air Canada
Alaska

LA
Portland
San Diego
San Francisco
San Jose
Seattle/Tacoma
Seasonal

American

Dallas/Ft. Worth
LA
Phoenix-Sky Harbor

Delta

LA
Seattle/Tacoma
Seasonal

Hawaiian Airlines

Hilo
Honolulu
Kailua-lona
Las Vegas
Lihue
LongBeach
LA
Oakland
Portland, OR
Sacramento
Sandegio
San Franciso
San Jose
Seattle/Tacoma

Mokulele Airlines

Hana
Hilo
Kailua-Kona
Lanai
Molokai
Waimea-Kohala

Southwest

Honolulu
Kailua-Kona
Las Vegas
Lihue
LA
Oakland
Phoenix
San Diego
San Jose
Seasonal
Long Beach
Sacramento

United Airlines

Chicago -O'Hare
Denver
LA
Newark
Saf Franciso

West Jet
So you can see a lot of airlines fly to Maui.
Video