We headed out to the big Apple via Orlando. Yep, you heard that right. We went to Orlando, Florida.
Flight to Orlando
It was a smooth ride, well sort of. It was packed full of people. I know it is what airplanes are made for. But, it was a full flight. I didn't have room to write. Which I like to do on airplanes, you know to pass the time. But, I couldn't do that. So I watched a movie. Luckily, I had 2 sets of headphones. My father-in-law didn't bring some. Even after I suggested that they bring some. He watched Top Gun Maverik. I watched The Batman.
Now that was an interesting show, not sure how I feel about it. There were some bumps along the way. You know like turbulence. But it was minor. They did serve Pepsi products, So I got a Serica Mist. They had some chips, cookies, and other things. They did give me 3 bags of chips and 2 bags of cookies. I wasn't expecting that or needed that.
Airplane
We flew on an A320, which is an Airbus 320, and this is the plane we flew on.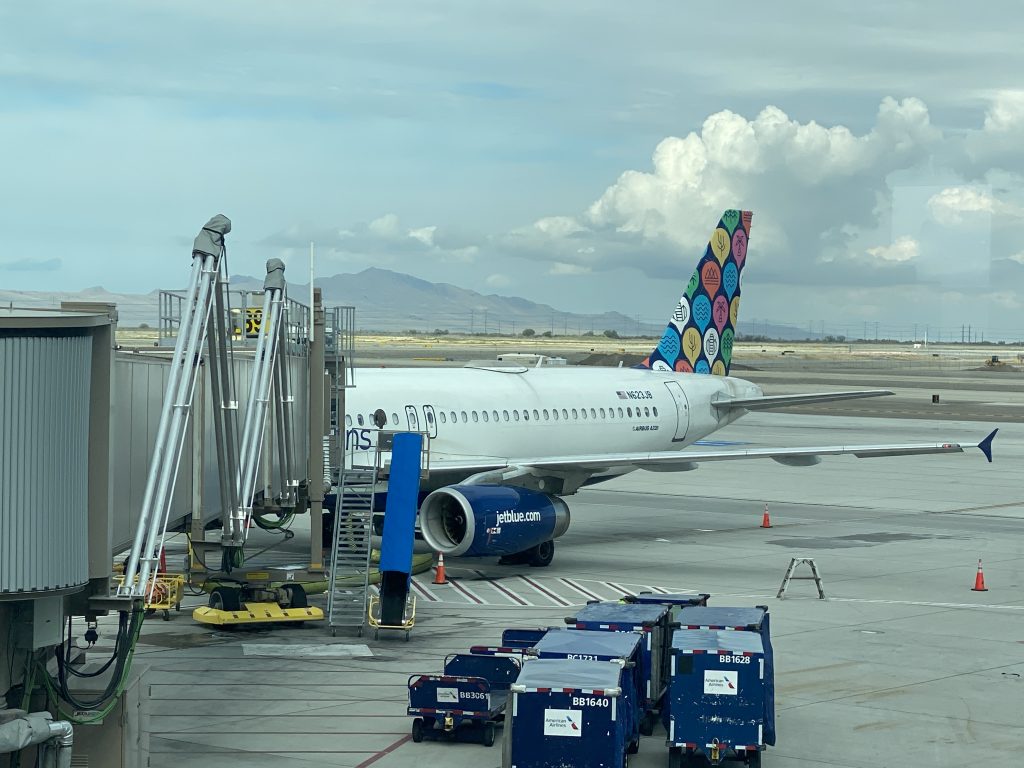 Here is a picture of the full Airbus 320.
Some of the things they had
IN seat TV screens
USB power outlet
Normal plugs
One more USB outlet
Orlando to New York
We arrived on time, but there were some weather issues, which closed the runways for taking off's. So that was fun. We didn't have to go far. We landed at Gate 9 and had to go to gate 3.
Since we had an hour's layover, we went and found some food (the last time we ate for the day). Then we waited. I did a quick overview of the gate section and Orlando airport. That is the next blog.
Our flight was delayed due to the weather. We finally boarded and we head to New York. I have a couple of complaints about this flight.
First complaint:
I asked to move a seat since the flight wasn't full. The seats behind us were empty and a couple of rows in front of us were empty. I was told no. I asked why. She said that it was to keep the plane balanced with the weight. BS. I moved to open seating before once the plane took off. But nope we were all stuck sitting next to each other. I would think in the age of COVID-19, they would encourage social distancing. But, nope not JetBlue.
The second one:
Our TV screens didn't work for a lot of the trip. I was going to watch a show and I could have finished it, We were stuck on the runway for about 30 minutes. After the shutdown of the engines to fix a technical issue, I thought the TV would work. But it didn't We finally found someone that told us how to rest the screens and then went up and reset them. We told the flight attendant that told us we couldn't move. I think she thought I was mad at her, and she didn't seem to give a damn to help us out.
So if your JetBlue screen isn't working and only showing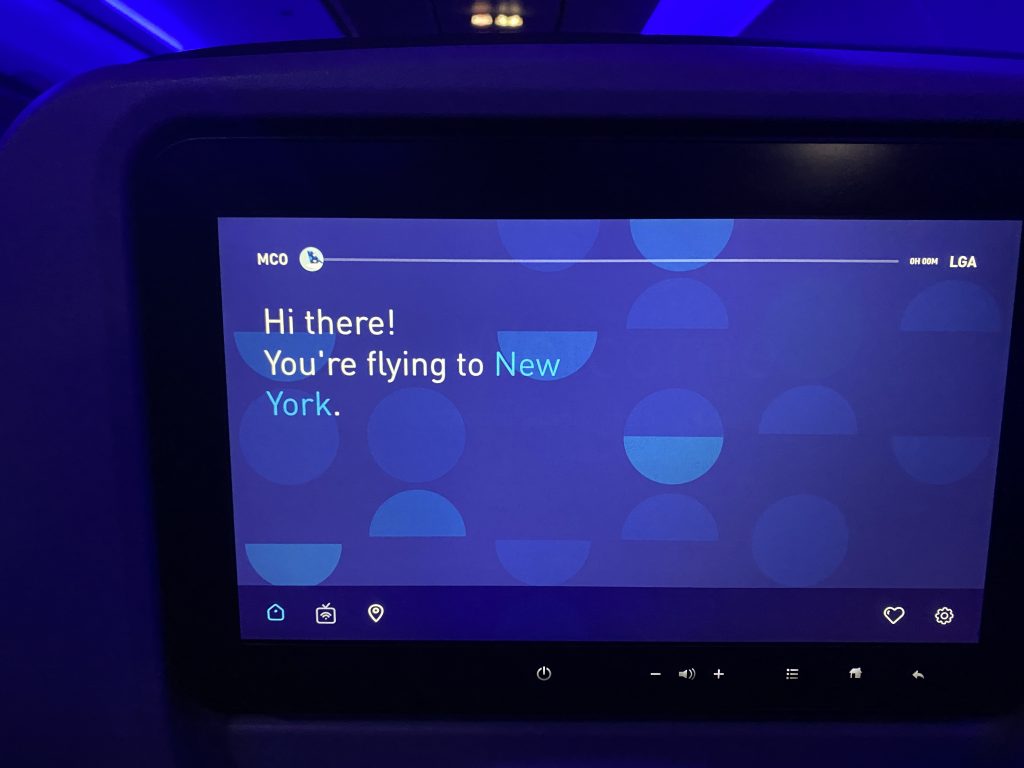 Then hold down the power button for about 5 to 10 seconds and it will reset. Once that did that we were able to watch TV. I just watched the opening scenes of several James Bond shows. Then tracked us into La Garduiga.
If you are flying into New York get a seat on the left-hand side. Like a window seat. That has some great views of Manhattan. We were on the other side of the plane. I was stuck in the middle. My wife had the end. She asked me why I didn't book the window. I said you told me you like the aisle seat. She said, well I hate the middle, that is why I sit in the middle, but I like the window and aisle seat. But it also depends on where we are going and where I want to sit.
I had another Seria Mist and a bag of chips and cookies. This time only one bag of each.
Once we left Orlando, it was smooth flying all the way to NYC.
Our luggage made it. I used AirTags to track our luggage. That made it nice to see where the luggage was at.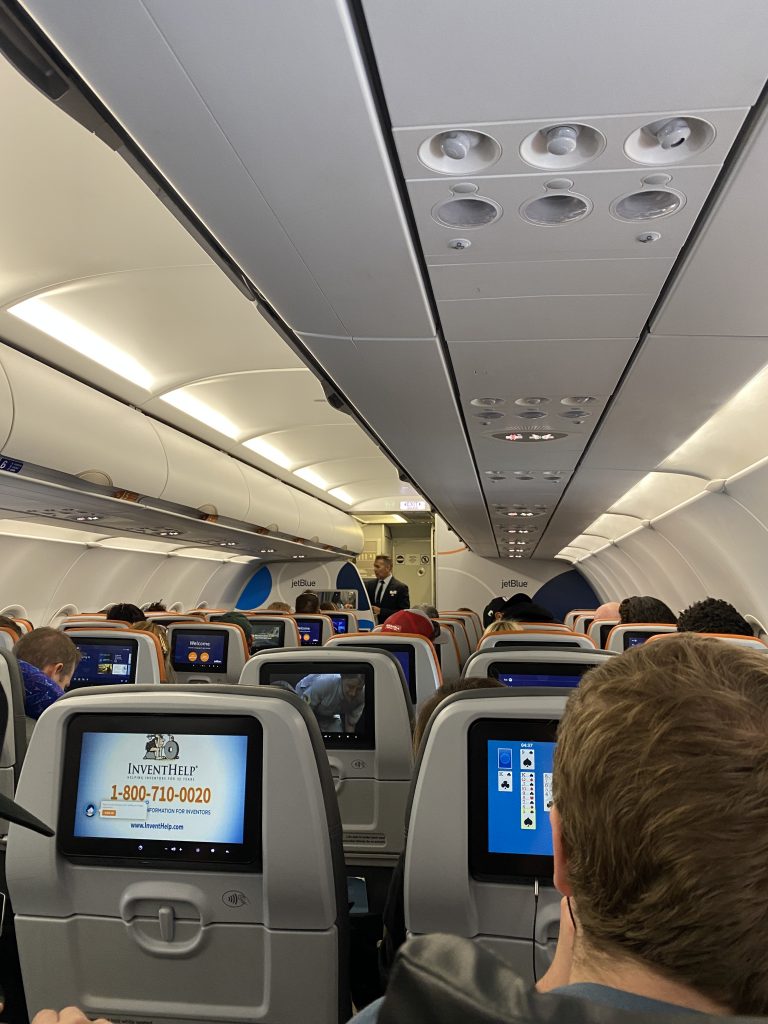 My thoughts
Next time I will not to LGA, I will just book a nonstop flight to JFK. It might be a little more. But it is worth it. Not to hear complaining. I still don't understand why we couldn't move seats. What the hell, JetBlue?