Today the ship was rock and rolling and not in a good way. It was a sea day and it was a bumpy and rough sea day. It rained until about 7 PM when the clouds went away and you could a see a rainbow.
Morning TIme
I got up and went to the international café had my self a bacon, ham and cheese sandwich, with a doughnut and a water. I don't have a drink package, so no milk this trip. For some reason, they are being really stingy with giving me milk with my doughnuts in the morning.  I waited for the rest to arise so we could have breakfast, they think 8 is too early.
We ate breakfast as a group in the Da Vinci dining room and had my normal cruise breakfast which consisted of:
Pancakes
Eggs
Sausages
Orange juice
Hot chocolate
I worked out the dining, but we had to move to the 7:30 PM time slot which means that we will miss most of the shows, that is why we opted for the early sitting. But, at least we are sitting together.
Rest of the day
The rest of the day consisted of doing nothing. But sleeping, the ship was rocking and rolling. We had the balcony door open and let the fresh air in and it was nice. Couldn't sit outside due to the rain but it was nice. I did roam the ship a few times as I just can't sleep away the day.
There was a point where we came to a stop and the ship was blowing it's horn several times as like telling something to get the hell out of the way. Then we picked back up speed and we were on our way back on course.
We had the pub lunch in the crown grill. It was good, I love me some fish and chips, however, they wouldn't let us take it back to our son who didn't want to come out since he was on a scooter. But we took it him anyway. (I know rebels)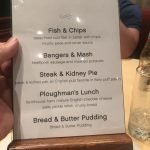 Later on, we went to the international café and had a snack before dinner. It was a formal night and I noticed that some people don't take this seriously anymore. I like that some people still dress up in tux's and look nice. The waiter we had tonight was great. I really like him, better than the other one we had.
Dinner
After dinner, we went out exploring and somehow ended back at the international café. Something about food and cruising. We did go to the top of the ship and check out the jogging track, don't worry I walked around it. Saw the basketball court and everything up there.
The one thing I did notice that things like ice cream, pizza, trident grill all closed early, 9 PM, not sure if it was due to the weather or not. Something I probably will never know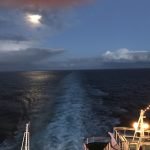 Went back and went to bed. I know it is a very exciting cruise so far.