I am considering doing something different on this cruise for the food part. So here are my thoughts. I will only be doing Dinner on this cruise. We had my time dining with a reservation at 8 PM every night. I wouldn't say I liked that time, but that is what they had when we booked and paid for the cruise.
Monday, April 17, 2023
We ate in the main dining room tonight, at table 417. For Dinner, we had the following:
Me
Classic Caesar Salad
Pan Roasted Fish Fillet
Key Lime Pie and Strawberry ice cream
Wife had
Spinach and Artichoke Dip
Southern Fried Chicken
Royal Cheesecake
The food was pretty good, and the portions were just the right size.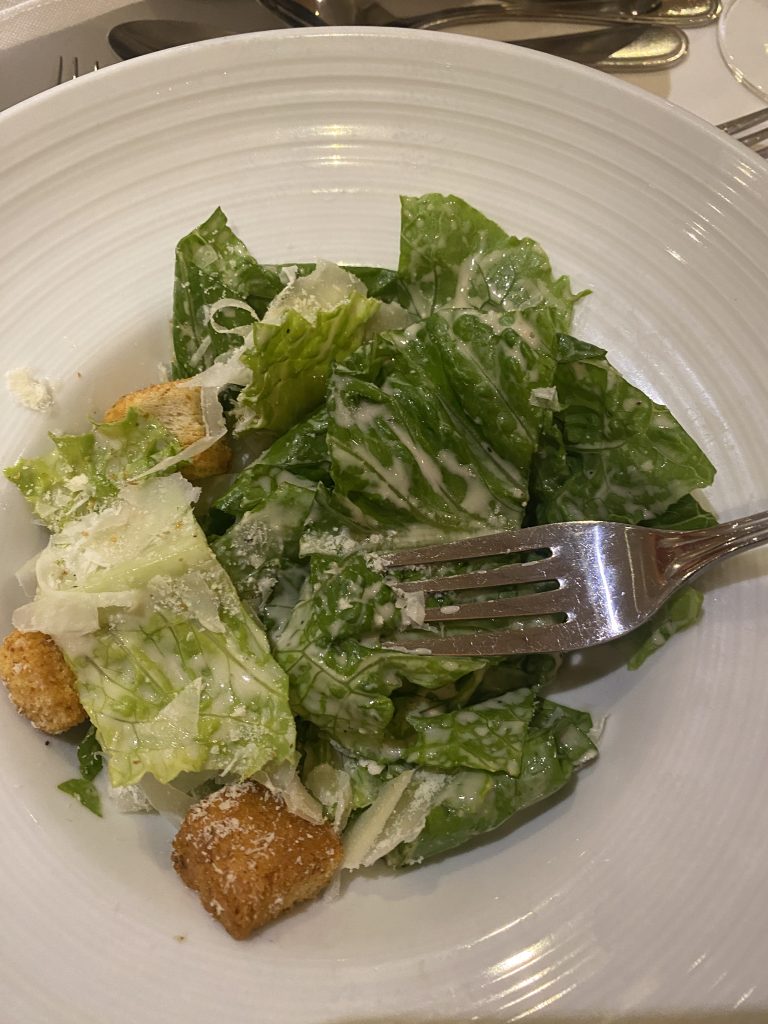 The service was excellent; one was hard to hear; I am unsure if he was soft-spoken or if the mask muffled his voice. But they were attentive to my wife's need for Diet Coke with Lemon. We had requested the same table every night as we had done before at Royal.
The wife didn't like the Cheesecake, and I know the first time for everything.
Tuesday, April 18, 2023
Tonight was in the main dining room, and we couldn't sit where we were last night, but tonight we sat by a window, and it was nice until it got dark.
Here is what we had for Dinner
Me
Classic Caesar Salad
Fragrant Herb-crusted Salmon
Warm Apple Cobbler with a scoop of vanilla ice cream
Hot Chocolate
Wife had
Vegan Creamy Butternut Squash Soup
Chicken cordon Bleu
Crème Brûlée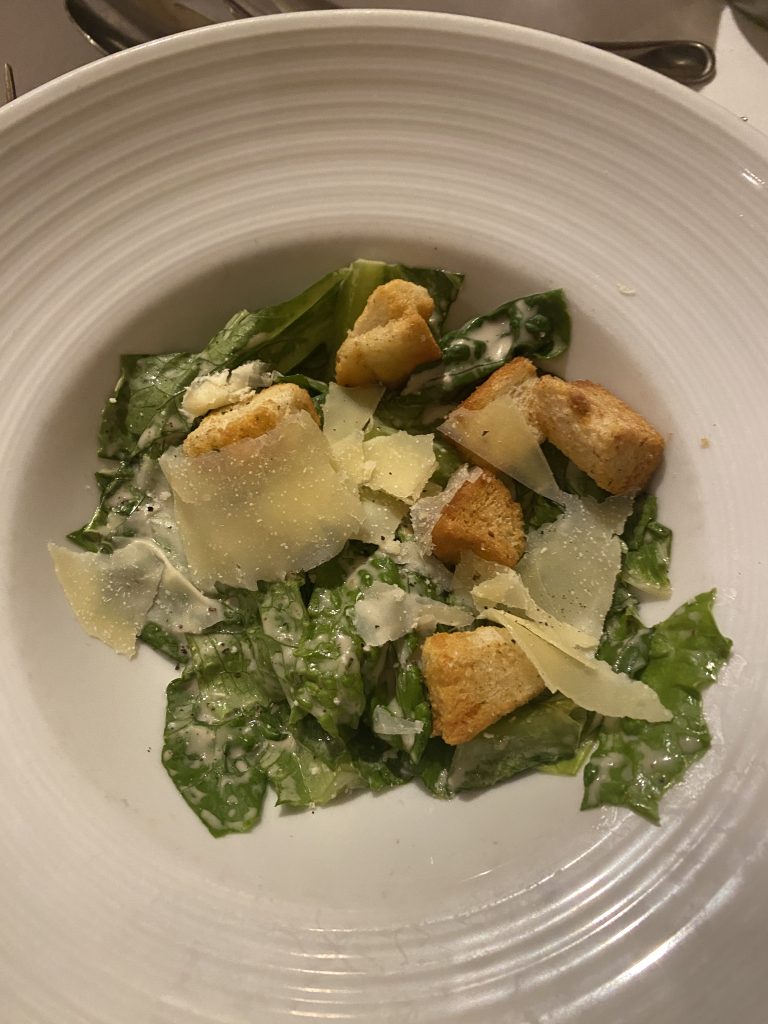 Since we couldn't sit at table 417, we went to table 447, and that was a nice change due to it being by the window, as I mentioned above. The service was outstanding, again very attentive to my wife's Diet Coke. They, however, messed up on my wife's order and brought her a medium rare steak. It was meant for another table. She liked the meal, besides the desert, where it was the second night in a row that my wife didn't like her dessert. So far, it is two for two of dessert no good.
Wednesday, April 19, 2023
After a day in San Francisco, we sat down and enjoyed A Taste of the USA. Yep, that is right.
I had
Chicken Waldorf Salad
Maple & Bourbon Glazed Salmon
Warm Apple Cobbler with a scoop of vanilla ice cream
The wife had
Baked Potato Soup
New York Strip Steak

When she got the steak, it was too pink for her, It tasted good, so they took it back and got her a new one. That was cooked just right, but she only ate half of it.

Strawberry ice cream, three scoops
The food was good for her; my wife has come a long way before she would have to have the steak well done, like brunt. But with the med well cooking on this steak, it was a well, which was too pink for her.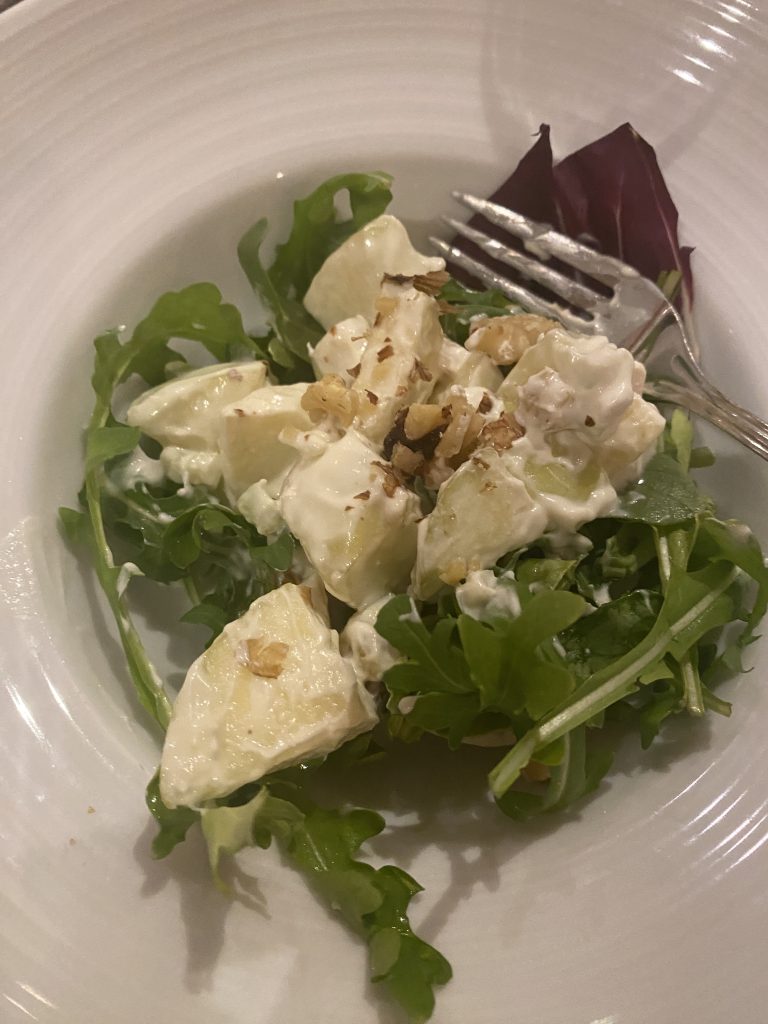 Thursday, April 20, 2023
We didn't eat in the dining room tonight since my wife didn't want anything, and nothing sounded good. I mean, it is the taste of the Caribbean. But some of the food looked good. But, we ate in the buffet today.
So no listing of good food. But here are the pictures.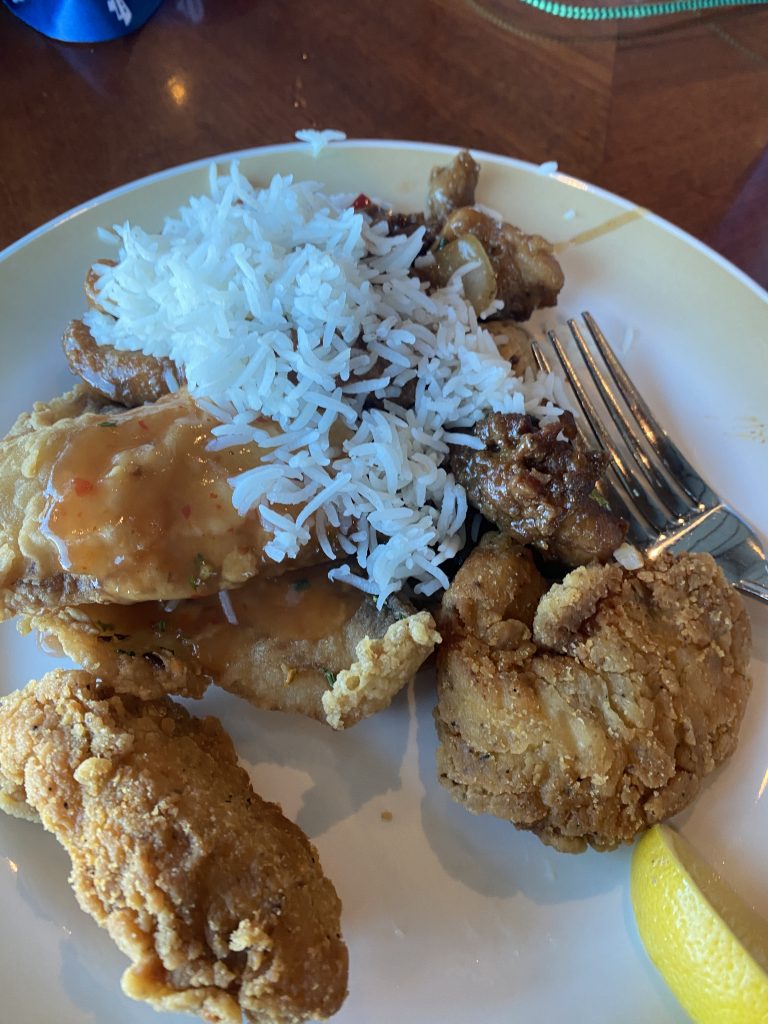 Friday, April 21, 2023
It was Italian night in the dining room, so we ate there; my wife likes Italian food.
I got
The mixed garden salad
Lasagna Al porno
Lemon Curd Tartlet
Wife got
Crispy Parmesan Arancini
Chicken Parmesan
Lemon Curd Tartlet
We were busy talking at the table next to us, distracting me from taking a picture of the Entrees.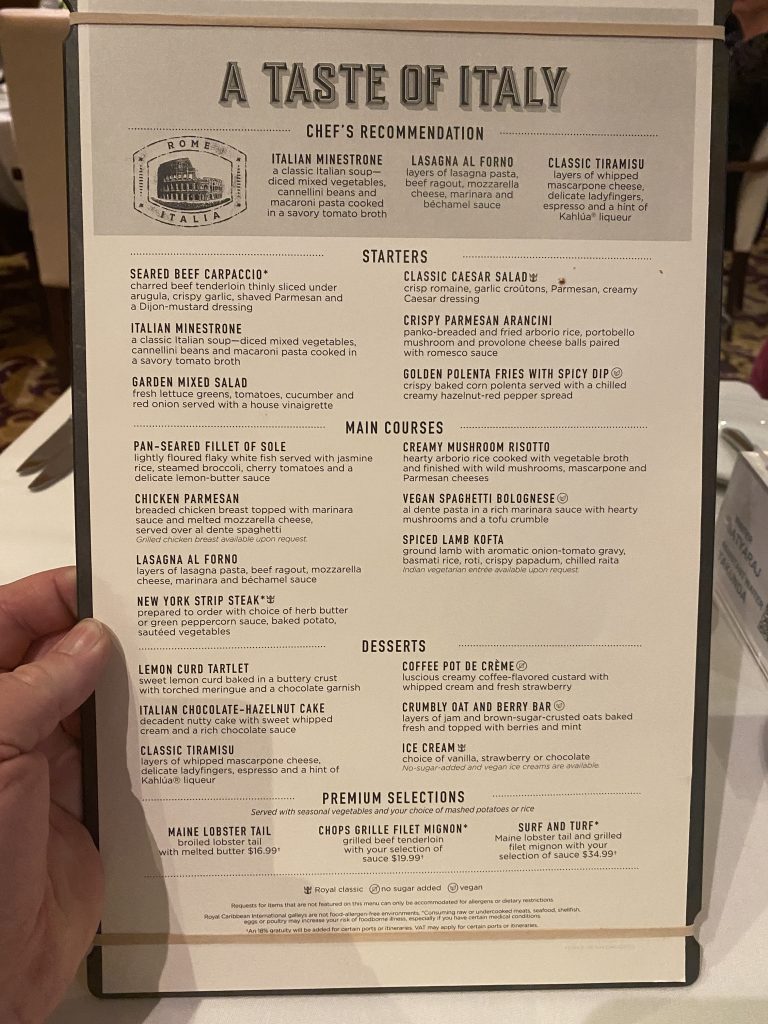 Saturday, April 22, 2023
The last night on the cruise, I know it is almost over. It just sucks, man. But at least we are eating in the main dining room tonight.
So what did we have tonight, the last night of the cruise?
I had
Classic Caesar Salad
Pecan Crusted Salmon
Warm Apple Cobbler
Wife had
Pan-seared Asparagus
Autumn Turkey Dinner
Ice Cream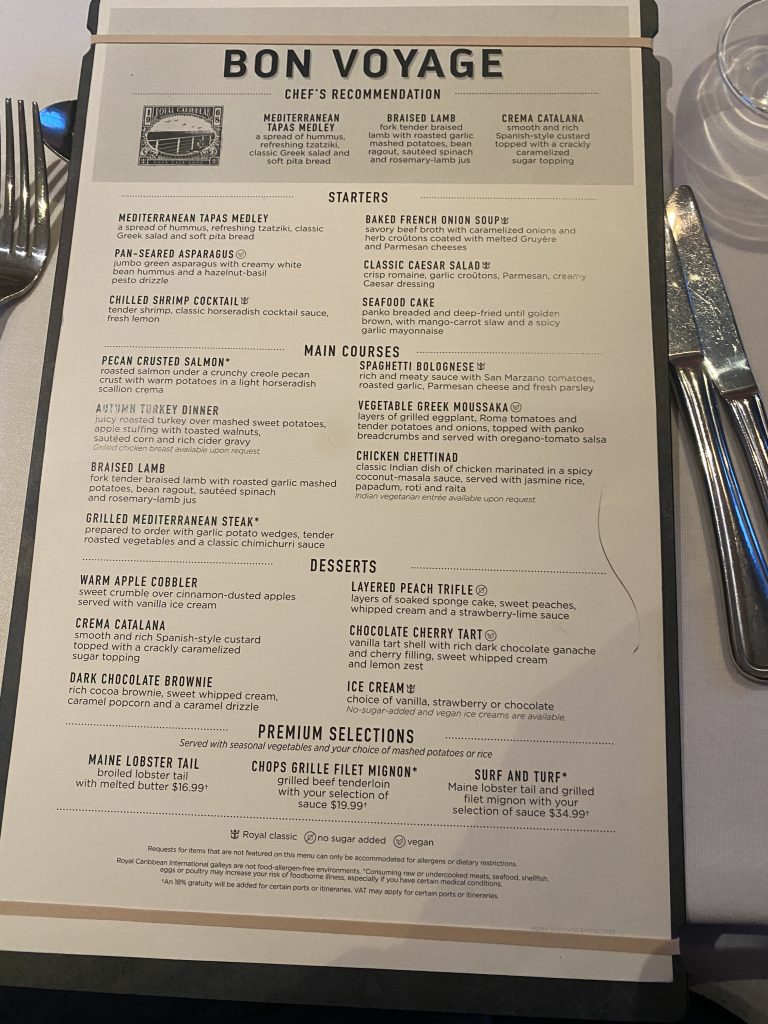 Overall
The food was pretty good in the dining room and the buffet. I had no complaints. However, my wife didn't like 2 of the desserts. She loves Cheesecake, and that is shocking.
Video