Holy Cow, this is just a huge stadium. Seeing it on TV is one thing but going there is another thing.
Located
This is where it is located
History
What is the history behind the house that Jerry built? That is what people call it. So let's look at the timeline for this massive stadium.
Timeline
1994

Texas Stadium is located in Irving, Texas
Jerry Jones expands the 65,000 seat Texas Stadium by 40,000 seats
Added

Retractable roof
Climate-control system making it a year-round place

1997-2000

Started talks with Arlington
Talked about doing a $250 million upgrade to Texas Stadium
Complied a list of sites for a new stadium

2001

Arlington is a leading contender for a $500 million stadium.

2003

Cowboys ask Irving City to extend their lease on Texas Stadium to a year to year once it expires.

2004

Announce plan to build a $650 million stadium in Fair Park
But the Dallas County commissioners can't justify asking the citizens for a tax increase.
Arlington starts to negotiate to locate the stadium near Globe Life Park.

2005

Arlington notifies homeowners that they are acquiring their property.

2006
Skip ahead
2008

June

Jones commissions the world's largest 1080p HDTV to hang above the field (yes it is huge)

2009

June the stadium is done
July the field is installed
Events held there
June 6, 2009

Concert with

Jee Ann Womack
Blake Shelton
Reba McEntire
George strait

Super bowl
Annual Academy of Country Music Awards
WWE's Wrestle Mania 32 and 38
First Championship game in the Collge Football playoff
Final Four of the 2014 NCAA Men's Division 1 basketball
On Sept. 5, 2009, BYU defeated Oklahoma 14-13 in the first regular-season game ever played there.
My thoughts
This place is a huge stadium. I got to walk around the whole stadium and look at the different areas and the video board from all angles. I would love to go back to this stadium someday and experience a football game there.
Pictures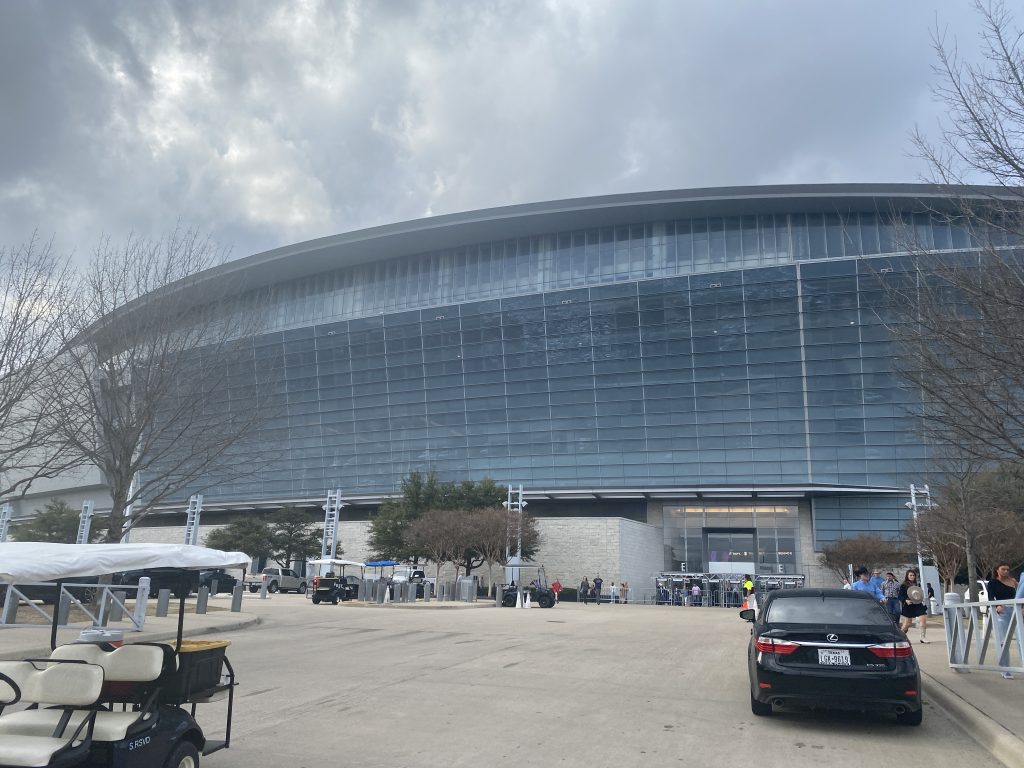 Video