The Fourth of July, America's Birthday was spent in Lincoln City, Oregon. We did the following:
Flower Garden
Went to  Connie Hansen Garden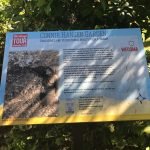 This was an interesting place to go. We saw some pretty good plants to look at.
Christmas in July
There is a shop in Lincoln City, called Christmas Cottage. Yes, you read that right
Yes, it was full of Christmas decorations lots and lots of decorations. It was an interesting store. Loved it.
Next, we went to the outlet mall here in Lincoln City.  Nothing big there. Next thing there was a parade. I don't do parade's So not much to say about that.
Went to the beach and took a walk it was pretty windy out there and there weren't very many people on the beach. Some had dogs and they let them run loose.
Took a walk on the beach and watched the sun go down the wind wasn't blowing and people started to make fires on the beach. I am not sure if this is a 4th of July thing to watch the fireworks or a weekly or nightly thing.
Fireworks
Watched some fireworks from the beach house.
That sums up my July 4th