The morning started out early we headed out for Northern Oregon and Washington. The first stop was
Hug point: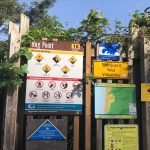 We found some caves and the beach was nice. Until the tide started to come in. It was a nice view of the ocean.
Cannon Beach
Next stop was Cannon Beach, it was so foggy we couldn't see haystack rock and the rock wasn't even 50 yards from the beach.
By the time we left, after about 1 1/2 hours the fog lifted and you could see the rock. It was a nice view once the fog lifted.
Astoria, Oregon
Next stop was the Bow Picker, now this place is in Astoria, OR.  The address is Duane St. (17th St and Commercial St). The wait was about 45 min and let's just say the fish-n-chips were pretty good. So if you are ever in Astoria, OR, you need to stop by and try these. Now, I won't tell you what kind of fish it is, but it is great tasting, a little skimpy on the fries, but it is all about the fish here.
Next stop was the Goonies house, (yes we went there) however, we couldn't bet close to it as the new owner doesn't want anyone on or near the property. We did stop and take a picture where it said no stopping or standing on this side of the road. I know rebels!!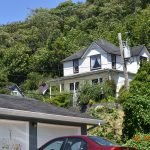 Next, we went to the  Astor Column and there were some great views of the Columbia Riber, Pacific Ocean. This was a tall building that you could climb up, you really need to be in shape before you come and do some of these things. It was a great view of Astoria.
Next stop was the jail that was used in the Goonies. It is now the Oregon Film Museum. The Jeep Cherokee that was used in the film sat outside.
Washington State
Next stop was Washington state. We went across the Columbia River and went to Long Beach, Washington. Stopped at the Cottage Bakery & Delicatessen to get some food. Not sure why I was full from the fish and chips still. I got an Airport Star.  It was a good choice.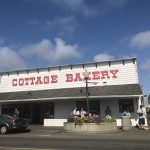 Next stop was the cape disappointment state park, tried to see a lighthouse, but couldn't get there. It was a disappointment indeed.
Next stop Fort Sevens State park, where there was a. Ship wreckage and you can drive on the beach. Which we did for like 7 miles.  It was like in Goonies, during the police chase from the jail.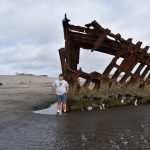 Next stop Indian beach, in Seaside, a light house is here, but it is out in the ocean it appears to sit on a small island off the coast and you can't get to it with it being high tide. You need low tide to walk out to it.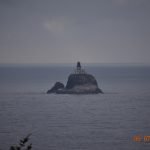 Next stop was Ebola State park to try and get a better view of it, that didn't work but we were able to see Cannon Beach and the Haystack Rock since the fog lifted.