Morning time came and we got up and had a good hot breakfast finished packing, and called the shuttle.
We arrived at the cruise terminal 91 (See the video below) the Crown Princess was on the left-hand side of the terminal.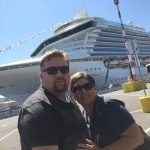 We did the following:
Filled out the information
Checked in
Waited in the waiting area until our number was called
Boarded the ship
Went to the room to put away the personal bag and then went to lunch.
After that, we went up to the deck for the sail away.
About 15 min after leaving the dock there was a medical emergency aboard. So instead of turning around, they kicked it into high gear and went to Whidbey Island, where we were met by the coastguard. They took the individual off the ship and we went our way, it was about a 30 min while they took them off. Not sure what happened.
We went to dinner at 6 PM, got the early time, and then we went to some shows.
Then went to bed, getting ready for a sea day tomorrow.
[featured-video-plus]