The first time I have been to the New International airport in SLC. The first time I have flown anywhere in the last 2 years.
Built
Since I was at the SLC airport last, it was the old airport. Now it is the new one. Yes, they built a new one.
Did I get to see
The airport? Only as I was walking through it. I didn't have time to stop and look around like I wanted to. I wanted to get up there early and take my time and look at all the new designs and things they have done. I just wanted to experience the whole thing. Cause that is my thing.
TSA
We didn't check any baggage so we just went straight to the security checkpoint. Since we had TSA pre-check. The line was pretty short. I only had to show my ID, no boarding pass. That was interesting. Maybe the database is hooked up so you can see if the ID has a flight. I don't know, it would be interesting to see.
Once you got past the TSA there was the security screening. This new way is pretty interesting. You pick up a tray and place one bag in it at a time. I had three bags. So I have to use 3 separate tots so I thought. I had to take off my belt as well. So that is four totes.
The totes/trays should be replaced once you took one to place your stuff on it. You didn't stack them at the end, they went down to a belt and then back to the front. It was an interesting thing.
Terminals
 It is different than the old airport, I guess that is the purpose of it being new. Instead of having A, B, C D, and so on They only had two different ones. A and B.  They ran parallel to each other.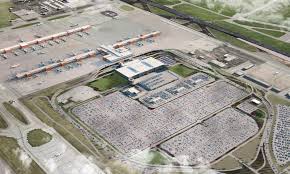 Of course, our gate was over in B terminal which was like 6 miles away. Not really, you had to walk about halfway through terminal A to get to the underground walkway to get to terminal B. That was a long walk, I did get my steps in for the day.
My thoughts
from the little I did see of the airport, I really liked it. I would like to see more of it and to actually get up there early and just walk around and look. Maybe do a video of the airport. To show what the airport is really about. It appears that it is a success and it should be a leader in how airports go.
Maybe I can just go up there one day and walk around, before the TSA area and see what there is to offer. Maybe, just buy a ticket somewhere and go and tour the airport and tour the airport on the other side. Then fly home. It would be fun.
My video
Coming soon