The day has finally come that we need to vacate our room and that comes with mixed emotions. Mostly between my wife and myself and how we want to do things. I was of course up at about 5 AM, as I couldn't sleep so I went out and watched the boat come into harbor. I then picked up my phone and went out of airplane mode and I was able to check into my flight. Really wish they would offer at least the airlines website for free on the ship. It would be most helpful. But money is a thing and they want yours
So I was up showered and ready and all of my stuff was packed before my wife got out of bed. We waited on her to finish getting ready. Even if we could stay in our rooms until 8:30 AM they came into the room about 8:10 AM, thinking we were gone. I still had things to do places to see… let's move it.
Breakfast
The only area open for food was the buffet, the MDR (Main Dining Room) wasn't open. This is the first ship that I can recall that the MDR wasn't open on this day. So we had to go upstairs find a place to eat and put our luggage. I had the following:
Scrambled eggs
2 sausage Links
Pancakes
Yogurt (raspberry)
Frosted Flakes
Lucky charms
2 cups of orange juice
1 chocolate milk
I had to get my fill somehow. I wasn't going to probably eat for awhile. Sorry no pictures of the food.
After Breakfast
Since we had some time to kill, I got the latest time possible to get off the chip as I would have to sit somewhere today. I walked around and saw a few things with out people around so I could actually see the things. They were working on a lot of things on the ship.
Steaming out the whirlpools
Tile and gout on the back Swimming pool and whirlpools
Paint
Grinding down some of the metal on the railing

Getting it ready for painting

Cleaning and more cleaning getting it ready for the next trip.
A lot of cleaning they have to do to make it healthy for the next group.
We finally decided to walk off the ship, before they called our zone, we were zone 22 but that is OK, it was time to go. We picked up our luggage and went thru customs. The best way and fastest way is to grab a porter, make sure to tip them and they will take you to a special place to go thru customs. It was quick and easy, the porter also took us to where we were meeting the Carnival Transportation. Just make sure to tip them.
Long Beach Airport
Once we arrived at the Long Beach airport, we had to some rearranging of things due to needing to pack some big cans of hairspray in the checked bag. We had to take out a couple of things to make this work. We couldn't make the pillow fit due to somethings we bought on the trip. Wife wasn't too happy about that. She had to carry it. Big suitcase and we can't use it to it's fullest capacity.
We then get to sit at the Long Beach Airport for about 4 and a half hours. Yea, fun for us. The plane doesn't leave until about 3:33 PM, when Carnival goes and changes things up on the arrival time to Long Beach, it screws everything up. I should have known that the coming into port at 9 AM was wrong. But it was on my itinerary. As you can see below.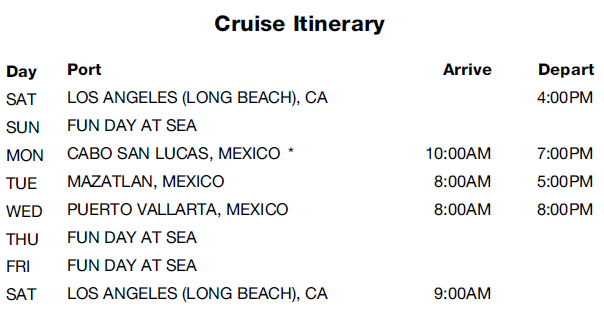 But oh will live and learn right.
Boarding the plane
We boarded the plane at the back of the aircraft, as the Long Beach airport has stairs and a ramp that is outside. I would hate to do that in the rain. It was interesting but we didn't have to contend with the people who was slow in putting their stuff away. We were offered the chance to check our carry on's and we took that option. To only have your backpack and nothing else is nice.
The TV's were having an issue, so they had to do a reset on them and it took about 10 min for them to come back up
Summary of day 8
The day started out normally, ate breakfast, but we had to take our luggage with us, and find a spot to eat. That was fun. We sat there until we needed to, even before they called our zone and left the ship.  Since it was either sit on the ship or sit at Long Beach Airport. 
The Trip came to end when we arrived home at 6 PM, thus ending our fun times and now it will be back to normal.