Now that we have our port days behind us that means that we are winding down and we are heading back to Long Beach. BOO!!. So it is a fun day at Sea. Well, that is what it is supposed to be right, but it is 2 days away from getting off, how fun is that. Not very much if you ask me.
Breakfast
We ate in the main dining room today and as it was a sea day we elected to do the seaday brunch. Which basically is a big mean in itself. What do I mean, well you have your starter, then your entrée then your dessert. You can add sides to that at any time. Here is the menu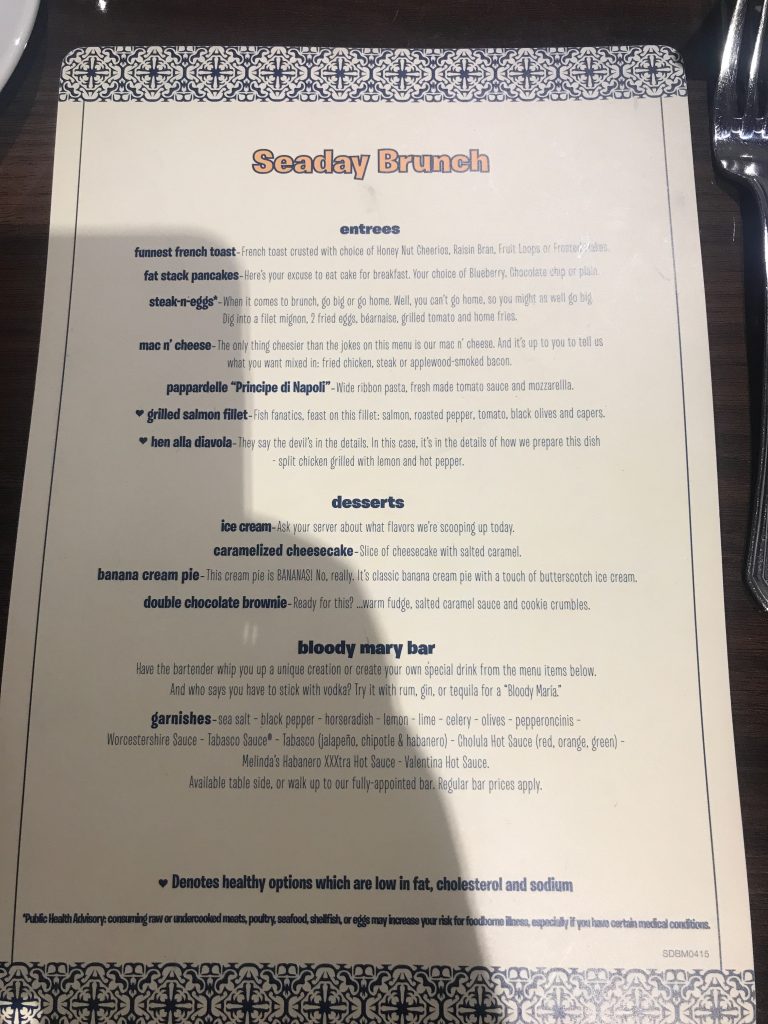 After Breakfast
Went back to the room and laid on the bed while my son worked on my shoulder. The same shoulder I have been complaining about for about 3 months now. I guess I have a huge knot in it and he was working on getting that taken care of. I then took a 2 hour nap, just in time to wake up for lunch.
Lunch
We ate at the Burrito bar today, and it was OK, probably could have tasted better if I wasn't already in a food coma. The chips were stale but the burrito was OK. I was able to pick what I wanted in the burrito so it was all good.
After Lunch
I went around making some videos of things around the ship. Things that I think might be of interest to you. I am on a learning curve here and I am doing my best. I spent a better part of a couple hours going thru and using my smooth device, which I will cover in my other blog, to capture places on the ship that I find useful and interesting.
Dinner
Tonight was formal night, so that means that I get to dress up in my suit. Just looking at things that people wear to formal night makes me wonder how they survive in life. Seriously, if people can't follow the rules then then shouldn't be able to eat in the Main Dining room.
I had the following:
Four Season Salad
Filet Mignon
Key Lime Mousse with 2 scoops of Ice Cream
I was so full I couldn't even eat the full Key Lime Mousse. The food is good.
After dinner
We went to the comic at the punch liner comedy club inside the El Morocco Aft Lounge, she wasn't that funny, that was the PG show, I wonder how the adult R rated show went. We then went up to the hot tub and no one was there. We then got a sandwich at the Deli. Talked to our dinner friends. They just shared a pizza and now 1 of them is getting a sandwich. They then went back to their room to get cheese cake from Room service.
Late night
It is now 11:55 PM on March 21, 2019, and they are serving late night snacks and doing a party on the lido deck. I am the only one awake well not of the ship, but in my cabin. I am writing the daily log and seeing what they have to eat this late at night.
Summary of Day 6
Today was not a fun day at sea, it was just a reminder that they cruise is coming to and end. But, I got things done that I have put off until today. Stayed up late, and saw what they had for the late night snack. Tomorrow is another Fun (sad) day at sea, so we will be doing some more things. I know there will be a chocolate bar at noon. Looking forward to that.