Today is Feb. 17, 2020, and for the three hours we were on the island, don't get me started. We lounged in a clam shell. We didn't really do any excursions since we didn't have any time on the island. We just enjoyed the sun, beach, water and the food.
Had the following
Island bike adventure
Princess cays coastal Cruise
Coastal cruise, Snorkel Equipment and Float (2 people)
Glass-Bottom Boat Cruise
Stingray beach Encounter
Adults sanctuary bungalow Rental (4 people maximum)
Ocean viewing sea board rental
water noodle rental
Float Rental
Aqua Chair
Aqua chair
Hobie Wave Sailboat rental (3 people maximum)
Banana boat ride
Snorkel Vest Rental
Surf Fishing
Snorkeling at princess cays (For experienced Snorkelers)
Lagoon Clear-Bottom Kayaking Adventure
Locker Rental
Beach Clamshell Rental (2 People)
Private Bungalow Rental (4 people maximum)
snorkel equipment rental (4 people maximum)
Stand-up paddle board rental
Aqua Bike Rental (2 People Maximum)
Paddle Wheeler Rental (Two person)
Paddle Wheeler Rental (4 Person)
Beach Party Pack Rental (4 person and 2 people)
I could go on. Here is a PDF version.
Clam Shells
You could rent a clamshell to sit in and they run about $40 for the whole day.  Yes, I got one as it was very hot and I didn't want to listen to my wife complain.  However, once we got there at noon, it was still $40. You really couldn't use it the WHOLE DAY as you have to leave by 2:30 just to make it back on the ship before 3:30 and we didn't even get to be on the island for 3 hours.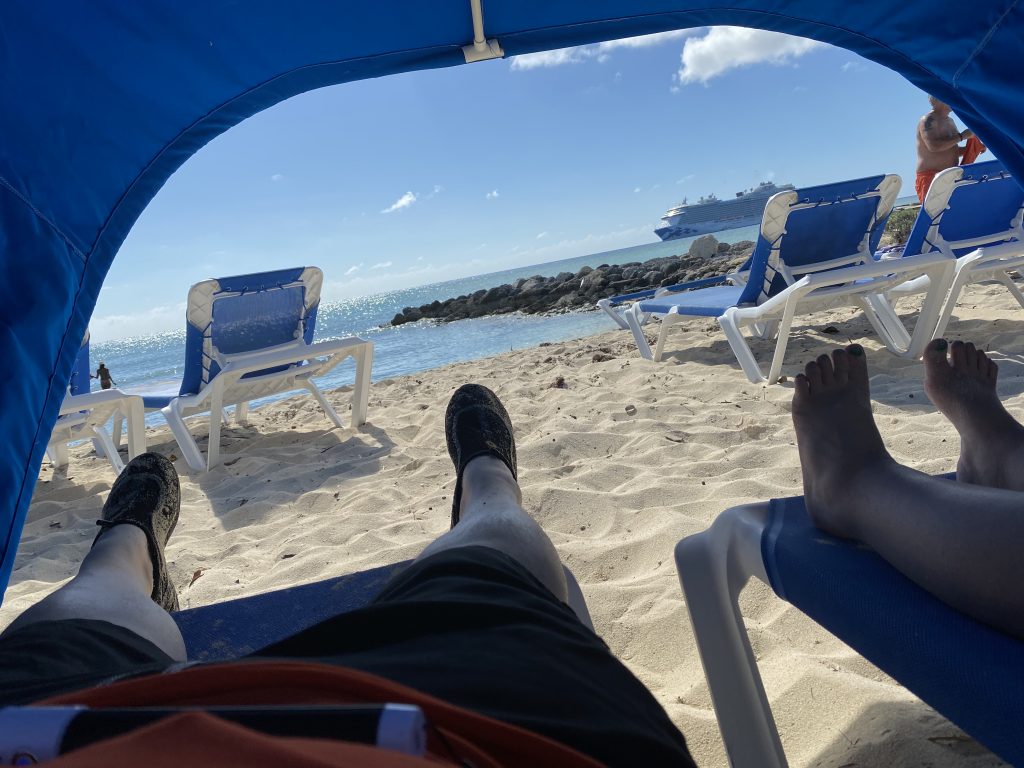 That is a good way to make money.