I didn't get the chance to go to the international café this morning and write about the adventures of yesterday's trip down glacier bay. It was somewhat of good weather and we could actually enjoy our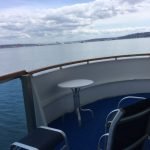 we booked.
Breakfast
We sat there and looked at the beauty of what used to be all a glacier some 200 years ago. But it has melted and formed a nice looking bay with beauty all around.
But today is all about Ketchikan, the last stop in Alaska. We arrived at 7 AM this morning. So we needed to be up and at it early, we ate at the buffet this morning. So we could quickly eat and go. Had my normal cruise breakfast
Pancakes

Eggs (over easy)

Sausage

Hash browns

French toast (I added this) for some reason this isn't on the main dining room menu
Ketchikan
Ketchikan is known for two things
Salmon

And rain
Today it was bright and sunny and not a drop of rain. Last time we were here all it did was rain and I a glad we got to enjoy the city of Ketchikan. Where the rain would have put a damper on things.
Got off the ship and away we went, we went on a tour and found totems poles, at least I am getting my steps in for the day. We found a brothel called Dolly's house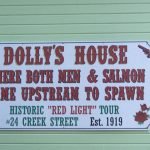 and then we went to the Great American Lumber Jack show. That was a good show, you could tell it was a show and certain things were staged, but they do have skills.
The boys got pictures taken with them and we headed back to the ship. We were supposed to be back on the ship by 12:30 PM but the show got done at noon and it was about a 1/2 mile walk back to the ship. We beat the buses back to ship, the ones that were picking up people at the show. So I do walk at a pretty good pace. Besides, there was a long line of people trying to get back on the ship so we didn't miss it. Thank goodness for that.
Lunch and the rest of day
We set sail for Victoria, the final stop on this voyage as we pulled at there still were 2 ships in port and one left before us.
We ate lunch at the buffet today and then went back to the room. Ryker went to a harmonica class, where he learned to play one. He has always wanted to learn how to do this. Came back and showed us what he learned.
Got ready for dinner, it was a formal night, and lobster was on the menu. I got that and I enjoyed it. The only time I ever eat lobster is on a cruise. My wife hates ALL seafood so we don't eat it at home.
We went to the comedy showcase and it was OK, I have seen funnier. Went back to the room set the clocks ahead one hour and it was 1 AM. Time for bed,
Al I can say is that today was a great day. NO RAIN.
[mapsmarker layer="6″]