You come from a place where you have a GB connection to the internet and unlimited bandwidth. You have unlimited data on your cell phone, and you are on a ship are you going to decompress and go data and internet free? Now that is the question, we all need to answer.
Usually
I wouldn't be worried about connecting to the internet on the ship for a number of reasons.
I don't need to have the internet on the ship.
I can access the data while in one of the ports
I am a cheap person and I don't want to pay that for it.
The question I would ask myself do I need the Internet? The answer was no I don't need it.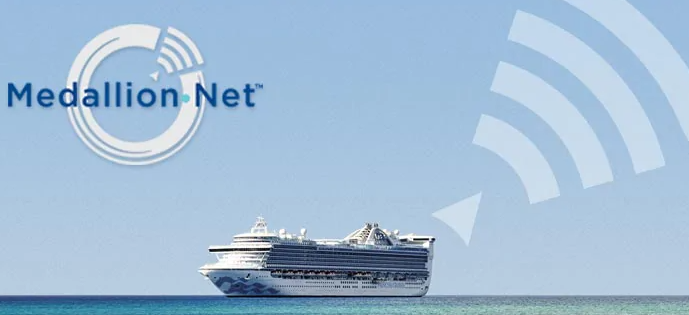 Internet
This trip I thought I would try a couple of different things so I got the internet. It is called Medallion Net. I thought I would give it a try to see what it is all about. Here are the options you have
Four-Device

$14.99 per day,

4 different devices, Hence, four-device package

Single Device
What I got
I did the $9.99 per day, I paid $59.99 for the week. Wow, it was expensive, $60.00 for 7 days. I had the following devices:
Yes, that is 3 devices and I had to log out of one device before I tried to use the internet on the other device. It was nice to be connected to the real world.  I need to check my Facebook feed all the time. I mean that was important, right. I used it more for the options to sync all the photos I was taking and the stuff I was writing to the cloud. So if anything happened to my devices I would have a copy of everything. I was doing. So I wouldn't have to be bummed and sad that I lost everything.
I didn't lose anything so that was a plus.
Yes, the bandwidth was limited depending on what you are doing. Here is what the disclaimer says:
"All internet usage subject to Princess cruises' standard policies, which may limit the browsing of sites due to network security and bandwidth usage. Applications that use high bandwidth may be blocked and offerings subject to change."
So you have to watch what you are streaming and just don't be stupid. I didn't stream Netflix or anything like that. I just uploaded photos and sync my writings and of course my email.
Was it worth it?
For being $59.99 for 7 days, I thought it was a good deal but it might be a little too pricey for a week. I didn't mind switching back and forth between devices. It did old but tolerable. My wife used it every once in awhile and now I think she is hooked. Now I think she will want this all the time. So it might be a good time to get the 4 device option. So I liked it and used it all the time it was really nice. Was it the best internet at sea? Well, I don't know due to the fact this is the only time I have got it. So I can't compare.