Los Angels bound. The day started off early, I was up at my normal time of 5 AM. Got ready for the day and the started heading to the airport and parking at Diamond parking since the airport is under construction. Got to the airport and walked thru security quickly, but my bag was taken aside for further inspection.
Found out that I took some candy bars (look to the right) and apparently they need to have a further look as they are bigger than a certain size. What?? This is something new they have put forth. So be aware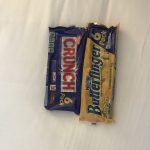 of that.
The plane ride was fine, we flew on South West and the plane wasn't that full. Which was nice, as we could have a seat between us and I didn't have to be scrunched up.
Got to LAX and found our way thru the construction and found the pickup for the shuttle to Enterprise rental car.
Rental car.
Went with Enterprise, not sure if I will use them again, and the self-serve kiosks wouldn't read my license. So it was standing in that line. It moved pretty fast and we soon found our way to the car. (Picture) It was more than I thought it should be, another reason why I might not be back to Enterprise. (for some reason I didn't get a picture of the car)
Hotel
Got to the hotel which was the Marriot (click here for the write-up about this) got some snacks from the m-lounge. It was a nice place where Gold and Elite members can go.
Rest of the day
Venice Beach

Went to Venice beach walked around for a little bit, my friend has never been. So we went and walked around. Found a spot to park, was afraid that it would either get towed or ticketed.
  This is where we parked. (Bigger picture)

Some pictures of the Beach
Headed to Dodger stadium, the purpose of this trip. Took the wrong exit but we got there. Parked in the $5 dollar lot. It was a good walk. I mean to work off calories you were going to eat. Got there and walked around the stadium.
Giants and Dodgers
The game started off with the Giants scoring first, I mean the Dodgers clinched the National League West the night before, Sept. 22, 2017. So they really weren't playing the stars. The Dodgers weren't anyway. We had seats down the first base foul line in Section 48 C 1 and 2.  They were good seats.
It cost me $12.50 for a super dog, out of Dodger dogs, and a water. Tried some Garlic fries and yes they were garlicky. The game went by pretty quick. Dodgers scored, but they ended up losing the game 1-2.
Some pictures of the stadium
Headed back to the hotel, which is only like 19 miles from Dodger Stadium. Went to the M Club for some snacks.
It was a long but great day.