U.S. President Ulysses S Grant S. Grant signed a Proclamation (which was 230) which admitted Colorado to the Union as the 38th state. Colorado was the first state to be admitted 100 years after the signing of the Declaration of Independence. This happened on August 1, 1876.
Here are some facts
Capital: Denver
Nickname: The Centennial State
Population: 5,757,736
Ranking in population: 21st
Layout of the USA at the time they became a state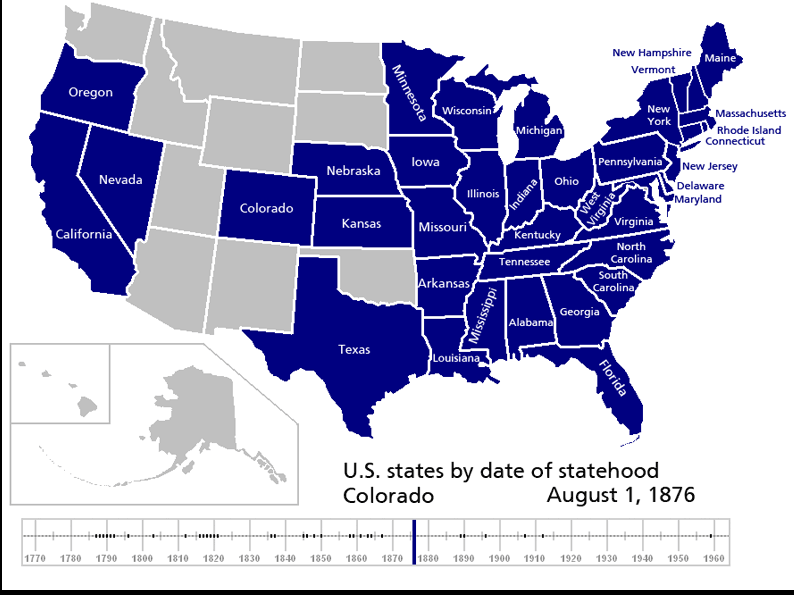 Religion
Here is how Religion is broken down:
Protestant 44%
No Religion 29%
Catholic 16%
Mormon 3%
Eastern Orthodox 1%
Jewish 1%
Muslim 1%
Buddhist 1%
Other 4%
American Civil War
During the Civil War between the Union and the Confederacy, Colorado was part of the Kansas Territory and this was admitted to the Union as the Free state of Kansas, on Jan. 29, 1861. This was mostly gold diggers and they were loyal to the union, however, they held sympathies for the confederacy.
Sports
Colorado isn't so far west that it doesn't have sports. Here is a list of sports teams:
Boulder Country Bombers
Colorado Avalanche
Colorado Eagles
Colorado Mammoth
Colorado Rapids
Colorado Rockies
Colorado Springs Switchbacks
Denver Barbarians

Pacific Rugby Premiership

Denver Broncos
Denver Nuggets
Denver Outlaws
Glendale Raptors
Grand Junction Rockies

Pioneer League (Rookie, Minor League Baseball)

Rocky Mountain Roller girls

Women's Flat Track Derby Association

Rocky Mountain Vibes

Pioneer League (Rookie, Minor League Baseball)
The state of Colorado is the least populous state with all 5 Major sports.
Colorado has plenty of college sports, here is are NCAA Division Athletic programs.
Air Force Falcons
Colorado Buffaloes
Colorado State Rams
Denver Pioneers
Northern Colorado Bears
If sports is what you like Colorado has plenty of them.
Overview
Colorado ranges from 3,317 Ft to 14,440 Ft you have plenty of things to do there. Skiing, sports, or outdoor stuff. It is an awesome state. I enjoy my time there and I think you will as well.
Citation
I found the above information on Wikipedia.