Capital: Harrisburg
Nickname: Keystone State, Quaker State
Population: 12,807,060
Ranking in population: 5th
Admitted to the Union: December 12, 1787 (they were number 2)
The layout of the USA at the time it became a State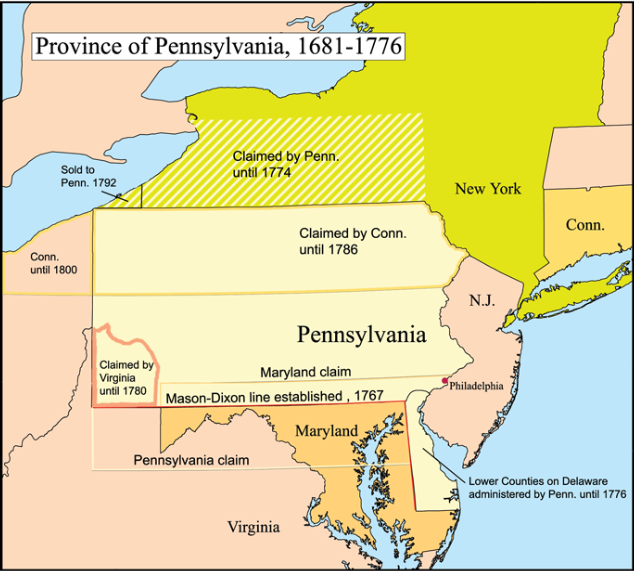 Religion:
Has freedom as wide of religious diversity, which continues to present to this day. Here is a breakdown of the religion in Pennsylvania.
Christianity 73%

Roman Catholic 24%
Jehovah's Witnesses 1%
Orthodox Christian < 1%
Protestant 47%

Mainline Protestant 23%
Evangelical Protestant 19%
Black Protestant 5%

Non-religious/unaffiliated 21%
Judaism 0.8%
Islam 0.6%
Hinduism 1%
Other religions 2%
American Civil War
Well, you have heard of the Battle of Gettysburg, this was fought in the south-central region of the state. Nearly 350,000 Pennsylvanians served in the Union Army. They also forced 8,600 African Americans to serve.

Sports
Pennsylvania is a sports place to be bargained with depends on what you like they most likely have it.
NFL

Pittsburgh Steelers
Philadelphia Eagles

MLB

Philadelphia Phillies
Pittsburgh Pirates

NBA
NHL

Philadelphia Flyers
Pittsburgh Penguins

MLS
They have other minor league teams there. As well as college teams, the most famous is the Penn State University Nittany Lions.
Overview
For being the second one in the union, it has grown to be a powerhouse not only in sports but in the forming of our Country as we know it today.