Texas is the Lone Star State.
Capital: Austin
Nickname: The Lone Star State
Population: 29 Million
Ranking in population: 2nd
Layout of the USA at the time they became a state
They were admitted to the Union on December 29, 1845.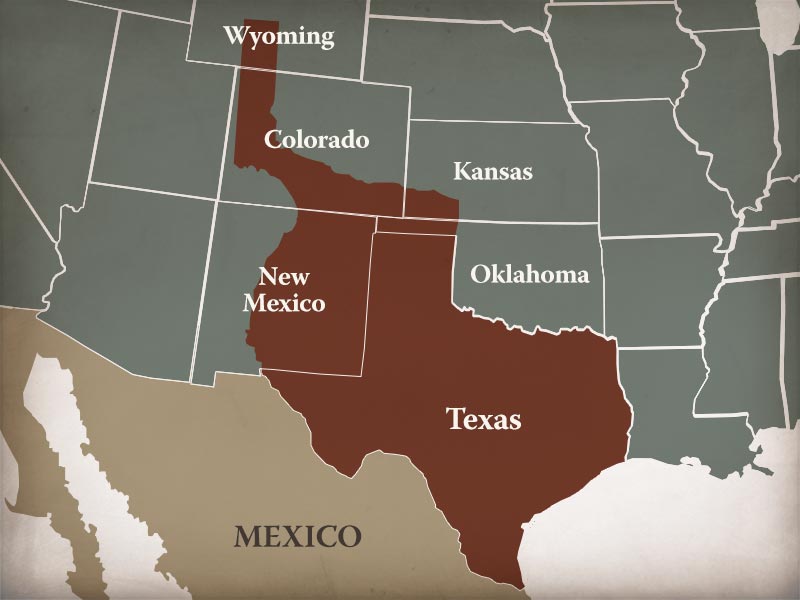 Biggest Cities
The state of Texas is huge and it has some of the largest cities in the nation.
Houston

Most populous in Texas
4th in US

San Antonio
Dallas-Ft Worth

Fourth largest metropolitan statistical area in the country.

Greater Houston Area

Fifth largest metropolitan statistical area in the country.

Austin is the second most populous capital in the US.
Religion
Is favored by the Spanish Catholic and American Protestant colonialism.
Christian 75.5%
Catholic 28%
Protestant 47%
Other Christian 0.5%
Unaffiliated 20%
American Civil War
This is an interesting one considering that 30% of the state population was black and they were enslaved, Texas favored the confederacy. They provided large numbers of means and equipment. However, about 2,000 men severed in the union army.
After the war the economy was destroyed, however, they rebounded quickly as it wasn't dependent on the slave trade.
Sports
You would think that with Texas being big as it is, there would be a lot of sports (Profesintal teams) here.
NBA

Dallas Mavericks
San Antonio Spurs
Houston Rockets

MLB

Houston Astros
Texas Rangers

NFL

Houston Texans
Dallas Cowboys

NHL
WNBA
MLS

Austin FC
Houston Dynamo
FC Dallas

Collage teams

Big 12 conference
American Athletic Conference
Sun Belt Conference
Great state for some sports.
Overview
The state of Texas is massive and there is so much to see and do. The second-largest state in Area after Alaska. Also, second in population after California. It has a lot of history and is a place you must visit.